Ordination of Elders takes place at Drumbo Presbyterian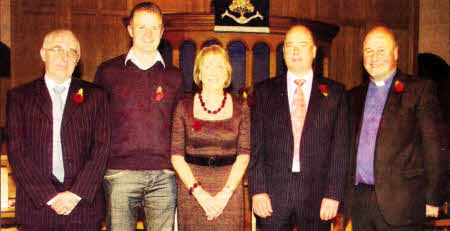 At the Ordination of the new Elders at Drumbo Presbyterian Church on Sunday November 14 were, from left to right: Gary Ballantyne (Clerk of Session), Matthew Glenn (Elder), Helena Trimble (Elder), Mark Milligan (Elder) and Rev. Adrian McLernon (Minister).
THE Ordination of Elders took place at Drumbo Presbyterian Church on Sunday November 14, when a Commission of the Dromore Presbytery ordained three Elders in the congregation of Drumbo.
The inspirational service was led by the Moderator of the Presbytery, Rev. John Brackenridge, assisted by Rev. Rodney Cameron and Rev. Paul Jamieson, who preached a hugely challenging sermon.
The Organist, Praise Group, Choir, and Soloist, Miss Ruth TrimbIe, led the Praise which brought a real sense of God's presence to the occasion.
The newly ordained Elders, Mrs. Helena Trimble, Mr. Matthew Glenn and Mr. Mark Milligan will greatly enhance the Ministry of the congregation as they serve, pastor and encourage others in their relationship with the Lord.
Hospitality in the form of a sumptuous supper was provided by the ladies of the congregation.
Ulster Star
26/11/2010