Local Gospel singer returns with first album in 10 years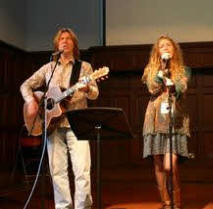 LOCAL singer Paul Silcock is back with his first album in 10 years. 'Reflections' is the Christian singer's third album, following 1995's 'Darkness To Light' and I999's 'Precious Child'.
Paul, who lives in Dollingstown, is worship leader at Lurgan Elim and at various other events throughout the north.
On the album Paul is joined by guitarist Graeme Duffin of Wet Wet Wet, a born again Christian, and Ian White, the man at the forefront of the contemporary Christian music scene in the UK.
Graeme, Ian and Sandy Jones are the album's producers.
This is the first one I've done with a big producer," said Paul.
"Ian White is a big as they come in Christian music.
"It's mostly my own stuff, all very contemporary music. It's a collection of songs I've gathered up over the last year."
Paul's music is instantly catchy and the subject matter is more than just your standard gospel fare. Songs like 'Speak Into The Silence' and 'Remember Mercy' offer real depth as does 'Only You' - a song which Paul dedicates to his neighbour Jean who lost her husband Jimmy last year.
As we sat around her kitchen table looking at old photographs, Jean reflected on the happy times and how her precious memories of him would be etched forever in her mind," said Paul.
Paul's father Winston was a musician in the showband era, but Paul explained how it took a while for the influence to filter down to him: "Every Christmas I got a guitar, but I wasn't interested in music. If you told me then I'd be doing this now I'd have said you're having a laugh."
Paul's work has seen him go on a missionary trip to Uganda, Beirut, Philippines and Japan.
He's been married to Paula for I5 years and together they have two children, Laura (13) and Gareth (nine).
Paul will be playing at a youth outreach event on May 6 organised by Ignite Ireland.
Organised in conjunction with Eternal Radio Live! it takes place in the Jethro Centre from 7pm to I0pm and features a host of top musicians.
Lurgan singers Paul Silcock and Andi Oakes are on the bill alongside Joseph Beggs from Belfast, Throne Room from Scotland and Risen From Ruins from England.
Tickets, £7, are available from the Jethro Centre in Flush Place, call 3832 5673 or visit www.jethrocentre.org
Paul's album is available in Faith Mission bookshop or it can be downloaded via Ian White's web-site, www.littlemistymore.com
Ulster Star
12/02/2010