Lisburn woman is appointed PW President for 2010-2011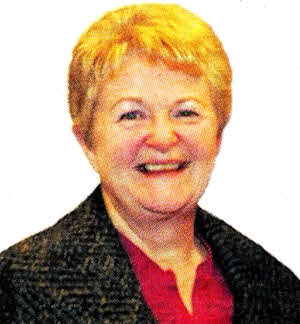 PHYLLIS Spence, a member of Railway Street Presbyterian Church, has been appointed PW President for 2010-2011. Married to Raymond, they have two sons and two grandchildren.
Phyllis has been the Dromore Presbytery's representative on PW Central Committee for the past five years and for the past two years has been Home Vice President.
In her new role as President, Phyllis will represent PW on several Boards of the Presbyterian Church in Ireland (PCI) and also undertake deputation at PW groups and special events as requested.
She will also be going on an overseas trip as part of PW's commitment to overseas missions.
Phyllis says of her appointment: "PW motto is 'Living for Jesus' and it has been a wonderful experience to be part of the women's ministry of the Presbyterian Church in this way. I am looking forward to the year ahead - perhaps a little apprehensively!
"I pray that I will be able to fulfil my role and encourage the women of our Church to be part of our great organisation which highlights the need for love and unity and obedience to God."
Ulster Star
07/05/2010