Series of events to mark 150th anniversary of Railway Street church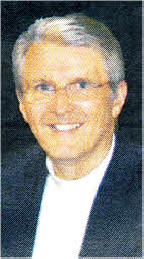 The Rt Rev Dr Stafford Carson, Moderator of the General Assembly
THE Rt Rev Dr Stafford Carson, Moderator of the General Assembly, will be the guest speaker at morning worship in Railway Street Presbyterian Church on Sunday (January 24) at 10.30am.
The service, which will be followed by a buffet lunch, will be the first in a series of special events marking the 150th anniversary of the formation of the congregation in November 1860. Other events planned include a Communion Service on Sunday January 31 at 6.30pm when the guest speaker will be former Railway Street assistant, the Rev Andrew Thompson, now minister of Elmwood.
The celebrations will continue on Wednesday March 3 at 7.30pm with a Musical Evening in Hillsborough Castle featuring Alan McClure (violin), Gareth Lewis (piano), Dana Masters (vocalist) and supporting artistes. Admission is £20 and tickets are available from the Church Office (Tel 92602766). All proceeds will be in aid of the Church Refurbishment Project.
A book by local churches' correspondent John Kelly entitled, 'Footprints on the Sands of Time - A History of Railway Street Presbyterian Church, Lisburn 1860 to 2008' is currently on sale at £5 at Railway Street Church Office (92602766), Smyth Pattersons, Faith Mission Book Shop, Lisburn Museum Shop, Lisburn and Hillsborough Tourist Information Centres and Waterstones.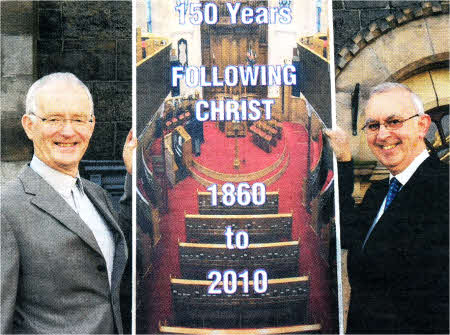 The Rev Brian Gibson and Mr Gordon Lindsay (Clerk of Session) pictured at one of the 150th Anniversary banners erected outside Railway Street Presbyterian Church depicting the church's mission statement 'Following Christ - Serving the Community'.
---
Gordon Lindsay has retired as Clerk of Session of Railway Street Presbyterian Church after 10 years of loyal and dedicated service. The retired Vice-principal of Fort Hill College, was for 10 years (1984-1994), superintendent of Railway Street Morning Sunday School. Gordon is pictured as he left church last Sunday morning (17th January) with his wife Elma who is currently leader of Railway Street Branch of PW.
2/01/2010