Tributes are paid to the former minister of
Hillsborough Presbyterian Church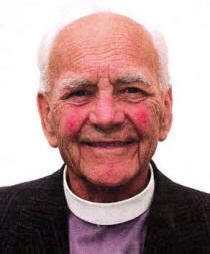 THE REVEREND Dr. James Barr Irvine, who for 22 years was Minister at Hillsborough Presbyterian Church, died last week at the age of 91.
A funeral service led by the Rev. John Davey was held in the packed Hillsborough church on Monday. The Moderator of the General Assembly was unable to attend but was represented by the Very Reverend Dr. Donald Patterson - former Moderator.
The Rev. Irvine passed away peacefully at the Ulster Hospital after spending time at a care home in Newtownards.
Born in 1919, Rev. Irvine's home congregation was Ulsterville in Belfast. He was raised by his father and grandmother after his mother died shortly after giving birth. He had one older sister, Margaret.
He attended Belfast Royal Academy 1931-35, Magee College 1943-45, Trinity College 1945-47, Assembly's College 1947-50, and Queen's 1950.
Before joining the Ministry Rev. Irvine worked in insurance for Ocean Accident & Guarantee Corporation from 1935-43 and passed exams for Associate Chartered Insurance Institute.
He was ordained on July 18 1950 in Lecumpher and was awarded Doctor of Divinity from the Theological Facility of Ireland.
Rev. Irvine served congregations in Lecumpher and Union Road Magherafelt 1950-1955, Alexandra 1955-63 and Hillsborough from 1963 until he retired in 1985.
He moved to Moira with his wife Edith after retiring but when she died several years later he moved back to the Finaghy area.
The Rev. Jack Richardson, who gave the address at the funeral, said Rev. Irvine was a gifted preacher and teacher and a caring pastor.
He spoke highly of Rev. Irvine, saying he was an able musician who played the piano and liked to sing. Rev. Irvine was also Lecturer in sacred music at Presbyterian College and served as Moderator of the Synod of Armagh and Down.
Even after his retirement Rev. Irvine worked part time with several local congregations. He had a big interest in the Boys Brigade and was instrumental in its formation in Hillsborough. He also had a great passion for the Samaritans and enjoyed football too.
His nephew, the Rev. Noel Mills, a Methodist Minister in West Ireland, gave a family tribute at the funeral saying how much his uncle had influenced his life.
Ulster Star
17/12/2010