New Presbyterian minister for Drumlough and Anahilt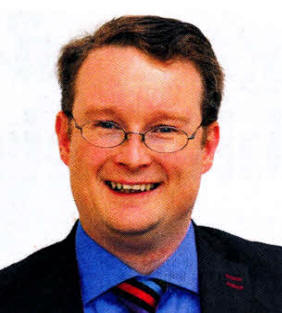 THE Rev Gareth McFadden, former Associate Minister of High Kirk Presbyterian Church, Ballymena, was installed as minister of the united charge of Drumlough & Anahilt congregations on Thursday evening September 23. He succeeds the Rev Gary Glasgow, who moved to Gardenmore Presbyterian Church, Larne in September 2009.
The Installation service, which was held in Drumlough Presbyterian Church, was conducted by a commission of the Presbytery of Dromore. The act of installation was conducted by the Rev John Brackenridge (Moderator of Presbytery) and the Rev John Davey (Clerk of Presbytery). The Rev Leslie Patterson read the Scripture lesson, Mr Davey preached the sermon and the Rev Dr. Bert Tosh (Convenor of the Vacancy) gave the charge to the new minister and the congregation.
The praise was led by Drumlough organist Sharon Jordan and Anahilt organist Noel Graham together with a joint choir comprising members of both Drumlough and Anahilt church choirs. The anthem was, 'May the peace of God' and the congregational hymns included, In Christ alone my hope is found'.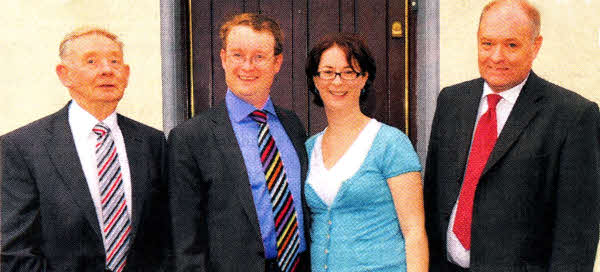 Rev Gareth McFadden pictured with his wife Michelle at Drumlough manse prior to his Installation Included are Anahilt Clerk of Session Mr Rex McClelland (left) and Drumlough Clerk of Session Mr David Gibson (right).
Following the service and prior to supper, Clerk of Sessions Rex McClelland (Anahilt) and David Gibson (Drumlough) welcomed their new minister and his family and thanked all who took part in the service and helped make the evening such a success. Pastor Jackie Hughes of neighbouring Ballykeel Baptist Church also added his welcome and words of encouragement to the new minister. The Rev Norman Cameron, minister of High Kirk Presbyterian Church, Ballymena commended Mr McFadden and extended his best wishes to both congregations.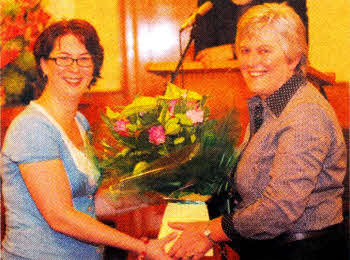 Sandra Magee presented a gift to the new minister's wife Michelle and Anne Jordan' presented a gift to their daughter Chantelle. David Gibson and Rosemary Nesbitt presented a gift to the Rev Dr Bert Tosh in recognition of his work as Convenor of the Vacancy.
Addressing his new congregations for the first time, the new minister explained that during his working life he has never resided more than three years at the same address. He went on to say that they were enjoying living in the country and hoped that their residency at the Drumlough manse would be a long one. Mr McFadden preached his first sermon at Anahilt Presbyterian last Sunday September 26 at 10.45am and at Drumlough Presbyterian at 12 noon.
Ulster Star
01/10/2010