Former member of congregation preaches at Father's Day service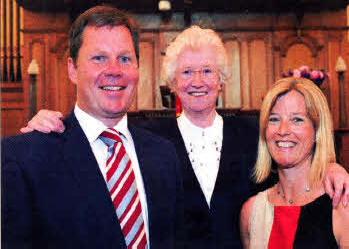 Former member of Railway Street Presbyterian Church, the Rev Philip McConnell, with his mother Elizabeth and his wife Elaine following morning worship in the church last Sunday morning.
CONTINU1NG the 150th anniversary celebrations at Railway Street Presbyterian Church, the Rev Philip McConnell was the guest preacher at the Father's Day service last Sunday morning (20th June).
While a young member of Railway Street congregation he attended Friends' School where his father was Bursar until his untimely death in March 1990.
Philip, who was licensed in June 1992, was one of several young people who responded to the call of God to serve Him in fulltime ministry of the church during the ministry of the Rev Howard Cromie: others were James Briggs, Norman Brown, Kenneth McConnell, George McClelland, Ian Mcllroy and Trevor Patterson.
In his address, Philip recalled happy memories of his father.
Currently minister of Waringstown Presbyterian Church since April 1995, Philip and his wife Elaine and family will move to Suffolk, England in September where Philip has been appointed Chaplain of the Royal Hospital School.
Ulster Star
25/06/2010