Cathedral parishioners turn rags to riches
for Romanian summer camp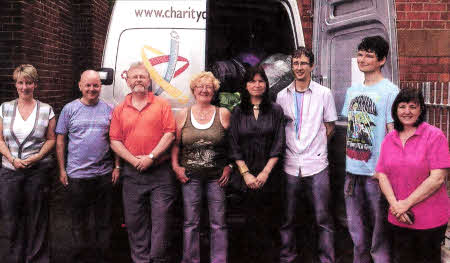 Wendy McConnell and her band of willing helpers from Lisburn Cathedral, who helped to organise the recent fundraising drive, Ioad the van with the generous donations received. From left to right are: Debbie Scott, Brian Swain, John Hume, Martie Kennedy, McConnell, Philip McConnell, Peter McConnell and Joanne Irwin.
PARISHIONERS from Lisburn Cathedral helped to transform rags into riches recently in order to raise funds for the Potter's House Summer Camp for children in Romania.
Members of the congregation, many of whom have visited the Timisoara region of Romania, where Oana and Nelu Ciucure run the Chosen Foundation Romania, raised £747 during an event held on June 26, whilst one generous parishioner donated a magnificent £250.
Organised by Wendy McConnell and her band of willing helpers from the Cathedral, the group urged fellow Church-goers, friends and neighbours to donate old clothes, blankets and bedclothes, which were placed into black bags and weighed, with money being exchanged based on the weight of the bags.
One of the parishioners who helped to organise the donation day and coffee morning, Martie Kennedy stated: "We were absolutely astounded by the amount of stuff we got. It was a great response, we were absolutely thrilled and then whilst we were having coffee one of the parishioners, who didn't want to be named, arrived and presented us with a cheque for £250 for the day to day running of the programme.
"We thought that was a lovely thing to do and shows his goodness' especially in this day and age when money is scarce' it was really nice of him."
The money raised by those at the Cathedral was used towards the Potter's House Summer Camp, which took place from July 12-19, for children aged 7-14 years old from the Potter's House programmes and from poor families in the community and local schools, where they were able to take part in activities such as Bible lessons, prayer' songs, sports, crafts, hikes, games, swimming, and the closing camp fire.
Lisburn Cathedral has had a close connection with the organisation for some time now and they organise an annual Shoebox Appeal around local school's each Christmas. Martie explained:
Last Christmas we got 1,030 shoe-boxes and went around the local school's asking them to donate things that were really needed by the children in Romania. We got a great response from Lisburn school's and once again we have had a great response to help with the summer camp. We would like to thanks all the parishtoners of Lisburn Cathedral and people further afield in Lisburn for their donations."
stacey.heaney@ulsterstar.co.uk
Ulster Star
30/07/2010