Praise service marks important milestones at Second Dromara
L to R: (front at centre) Mrs Karen Carson (GB Captain), Rev David Porter (Chairman), Mrs Norma Porter and Mr Herbie Chambers (Clerk of Session) pictured with officers and girls of Second Dromara Girls' Brigade at their 40th anniversary service.
GB Captain Karen Carson with her husband, Les, mother Joan Browne (Founder Captain 1970-1976) and son Scott and his girlfriend Ruth Kearney.
Presenting a gift to the Rev David Porter (Chairman) and his wife Norma are GB Captain Karen Carson (left) and GB 0fficers, Sarah Parkinson and Helen McAuley (right)
AN historic service in Second Dromara Presbyterian Church last Sunday evening (3Ist January) marked two important milestones in the history of the church.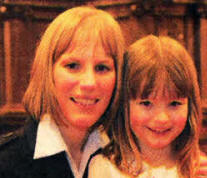 The service of thanksgiving and praise marked both the launch of the 40th anniversary of Second Dromara Girls' Brigade and the retirement of their minister of nine years, the Rev David Porter. The Girls' Brigade Company was formed in I970 and Mr Porter, previously minister of Movilla Church Extension Charge, Newtownards, was installed in January 200I.
The minister's son, Andrew Porter led the service, which was opened by Lee Stevenson. Ian Beattie presided on the organ and led the celebratory thanksgiving praise that included, 'Come on and celebrate' and 'Lord for the years'.
Magali Robinson and Catherine Graham played a musical duet. Paul Silcock sang two solos and Suzanne and Jade Smyth and Nicola Kinghan sang, 'In Christ alone'.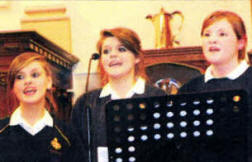 Ruth Kearney also sang a solo. Dianne Sherlock read the Scripture lesson, Alison Whan read the poem, 'Arise women of God, and Jemma Roleston read the poem, 'Becoming a woman of excellence'.
During the service, GB members Sarah Parkinson and Helen McAuley presented a gift to their Chaplain. GB Captain, Karen Carson, concluded the service by giving thanks for 40 years of faithful Girls' Brigade work and witness at Second Dromara.
The retiring collection will be donated to support the work of Leukemia Research.
The service was followed by supper in the church hall during which time Mr Porter performed his last task as their the loyal minister and GB Chaplain as he dedicated a new sound system installed in the hall, which was the gift of the GB Company.
The supper also provided an opportunity for the girls and the congregation to say a final farewell to David and Norma who will move to Coleraine.
| | |
| --- | --- |
| | |
| Former GB Captain Sadie Hanna with her daughter Dianne Sherlock and grandchildren Gemma, Kerri and Megan at the service. | Rev David Porter (Chairman) with GB Captains past and present at a service marking the 40th anniversary of Second Dromara Girls'. L to R: Sadie Hanna (1975-1996), Karen Carson (2005- present), Pauline Johnston (1996-2005) and Joan Browne (Founder Captain 1970-1975). |
Ulster Star
05/02/2010