Love is in the air with St Valentine's events at Maghaberry Elim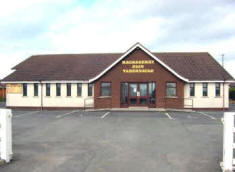 TWO of Maghaberry Elim's youth organisations will be joining forces on Sunday for a St Valentine's Day concert and candle-lit supper in the church.
The special event, which starts in the church at 6pm, is being organised by the junior youth club, Detonate, and the Sunday School, known as JAM (Jesus and Me).
The children have been working hard on a number of songs under the guidance of joint worship leader Mrs Sharon Hodgins.
Detonate team leader, Mr David McKee, will give the address, and the service will be hosted by church pastor, Mr Paul Evans.
Mr McKee said: "As the service is taking place on St Valentine's Day, this will be a special love-themed event.
"The service will be at the earlier time of 6pm. We would love to see lots of friends and family there to support and enjoy the children singing and taking part."
There will also be a special soloist. After the joint Detonate/JAM concert, everyone is invited into the church hall for a delicious candle-lit supper.
This concert is just one of a number of outreach events Maghaberry Elim has planned for the village community.
The church's worship team is currently recording a selection of inspirational Gospel songs and it is hoped a complimentary CD will be delivered to every home in the village. A special Gospel mission is being planned for later in the year before the summer holidays.
This evening (Friday), while the children are enjoying the fun and games at Detonate from 6pm onwards, there will be a special Ladies Pampering Event for the mothers. The event is being hosted by Detonate worker Mrs Cheryl Eagleson and there will be a choice of stress-relieving treatments, including; mini-facial, neck and shoulder massage, and mini-manicure.
All the treatments will be carried out in privacy and by qualified therapists. The mums will also be tempted by a delicious selection of chocolate and cream desserts.
This has been an exceptionally busy period for the church. Each Wednesday evening at 8pm, the Bible study has been hosting a Christianity Explored course for people interested in finding out more about the Christian faith.
The DVD and discussion sessions are being taken in the church hall by Bible student Paul Eagleson. Refreshments are also being served at each session.
Ulster Star
12/02/2010