Stephen's achievements recognised by Salvation Army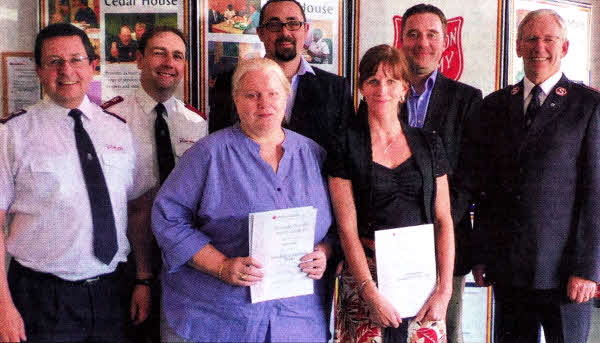 Major Alan Watters, Leader of The Salvation Army in Ireland with Chief Secretary Colonel Brian Peddles (far right) and staff at Centenary House, Captain Neil McFerran, Chaplain, Stephen Potter, Social Worker, Guy Poland, Centre Manager, Elaine Mcllveen, Programme Leader (Care) and Deirdre Conley, Receptionist. The staff were presented with certificates marking their achievements in successfully completing training ad development courses.
A DUNMURRY man was amongst staff from the Salvation Army whose training and development achievements were recently recognised at an Awards Ceremony in Belfast.
Over forty staff working in Salvation Army churches and Lifehouses in Northern Ireland and the Republic of Ireland received recognition for their success and achievements in a range of courses at Certificate, NVQ, FETEC, Degree, Diploma, and MA level, in subjects as diverse as sign language' social care, health care, counselling, management and theology.
Stephen Potter, a Social Worker at Calder Fountain, completed a Bachelor of Social Work degree. Calder Fountain is a registered residential unit within The Salvation Army's Centenary House complex.
Built in partnership with HELM Housing, the unit provides accommodation and support for 28 men with mental heaiteh or substance misuse problems as well as frail elderly men who require a high level of care and support.
Stephen, who is married to Soonok and has three children, completed his Social Work Degree in three years — coinciding with the completion of his dissertation on Religious Epistemology for his master's degree in philosophy.
The local man juggled his study, work and family life as he undertook his degree, however, he is delighted to have now achieved his qualification.
As a result of this training I now feel that I can approach my work with a greater sense of confidence and ability to research the evidence base tor my work. I hope to continue my Social Work study by undertaking training in Cognitive Behavioural Therapy and have also already begun collecting material on the topic of the Role of Spirituality In Social Work in preparation for completing a Phd on the topic in the future, said Stephen. Special guest Colonel Brian Peddle, Chief Secretary of The Salvation Army, who is second in command of the church and charity organisation in the UK and ROI, awarded the certificates at the short ceremony.
"The extent of courses recognised today, and the excellent level of academic achievement attained, highlights the commitment of our staff to gain new insights and skills which will ultimately enhance their working practice, often providing the confidence and skills to take on new areas of responsibility or indeed gain promotion'" said Major Alan Watters, Leader of The Salvation Army in Ireland.
"I want to thank each and every one of our staff for their commitment and hard work in completing their awards and in their day-to-day work of helping those in need who turn to The Salvation Army for help and support," continued Major Watters.
Ulster Star
25/06/2010