Over 200 young people take part in StreetReach Lisburn

Some of the over 200 young people who took part in StreetReach Lisburn 2010.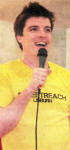 OVER 200 young people from about ten churches in Lisburn, Dunmurry and Moira spent three days of community service taking part in StreetReach Lisburn 2010 on Thursday, Friday and Saturday of the Easter holidays (April 8-10). Each day began with a short period of worship in Exodus in Railway Street and after a full day of litter pick-up, gardening, window cleaning and painting they met in Railway Street Presbyterian Church Hall for a scrumptious evening meal prepared by a willing team of ladies from Railway Street Presbyterian on Thursday evening and a team from Elmwood Presbyterian on Friday night. The three days of Christian outreach, fun, fellowship and food concluded with a barbecue on Saturday evening.
| | |
| --- | --- |
| | |
| Skyline Drive resident 0live Eccleston pictured getting her windows cleaned by Julie Armstrong, Jordan White and Rob Vaughan of the Lambeg StreetReach team. | Elmwood Presbyterian StreetReach team who took part in StreetReach Lisburn 2010. L to R: (front row) Alannah Vient, Andrew Cummings, Christopher Adams and Philip Harrison. (back row) Deborah Kirk, Heather Vient, Laura Dickson, 0pa Giebel (Youth Worker), Elizabeth Mathews (Deaconess), Rueben Steenson and Simon Adams. |

The Exodus Explore Team who in addition to taking part in StreetReach last week, will spend 10 days of outreach work in Romania next July. L to R: (front row) Hannah Jess (Team Leader), who is a member of Elmwood Presbyterian Church, Hannah Picken, Sarah McCarrison, Loren Costecalde, Hannah Nugent, Rachel Flanaghan, Shannon White and Lauren Stothers. (back row) Bill McCord (Team Co-worker), who is a member of Drumbo Presbyterian Church, Paul Murphy (Exodus Staff), Eden Crothers, Lucia Leonard, Joel Spence, Rory 0'Halloran and Ben Steen (Exodus Staff).
Ulster Star
23/04/2010