Gospel Fest to make a welcome return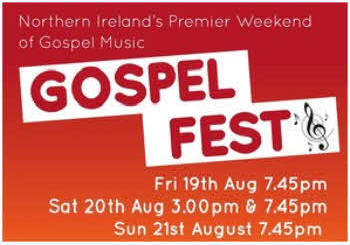 FANS of local Gospel music are in for a treat on the weekend of August 19-21 when a special musical event entitled 'Gospel Fest 2011' takes place just outside Donaghcloney in Co. Down.
The festival, which celebrates the best in local Gospel music, has quickly become Ireland's foremost Gospel music festival and this year has attracted many visitors from throughout Ireland, England and Scotland.
The three days of Gospel music will be held under canvas on the Old Bann Road, which is just opposite the Midway Autopoint on the main road between Waringstown and Banbridge.
The Gospel Fest event has been the vision of Roy Dreaning, who is the Lay-Pastor in Queen's Street Methodist Church in Lurgan. Roy is also a singer and guitarist with the group Live Issue, which will
be appearing throughout the weekend.
Roy explained how Gospel Fest came into existence; "I have had many wonderful opportunities to travel throughout the UK and America with Live Issue and have played at many Gospel music festivals. I felt it was time to celebrate the wonderful talent and tradition of Gospel music in our own country and hopefully there will be something for everyone's tastes during the weekend. Our main aim is to glorify Christ and I believe He will honour our efforts and the ministry of each of the artists involved.
"Last year's Gospel Fest was a huge success with numbers in attendance far exceeding expectations".
Friday August 19 at 7:45pm - Jim Close — A special guest from Scotland with a wonderful voice and a great story to tell. Live Issue —The local Country / Gospel group who have toured extensively throughout the UK and America and were nominated for a prestigious Dove Award earlier this year.
The Harvesters —The popular Gospel quartet featuring Downtown presenter, Ronnie Morrison.
Kathryn Mitchell — One of local Gospel music's best female vocalists.
Saturday August 20 at 3:00pm - A special afternoon concert featuring The North Connaught Community Gospel Choir.
Saturday August 20 at 7:45pm - Nell and Lorraine Hire — Nell Hire is one of Northern Irelands most established and respected Gospel singers. Kuvara — A tremendous praise choir from East Belfast who just love to sing. Jim Close. Crawford Bell — Highly talented and respected throughout the music industry, Crawford has worked with many top artists including Daniel O'Donnell and Van Morrison. Live Issue
Sunday August 21 at 7:45pm. Mary McKee — A renowned Gospel singer who was the lead singer with 'The Genesis'. Jim Close. The Dixie Heasley Band — Stephen Heasley has recently released a new album to fund projects in Uganda. Amy Roberts — Ex cabaret entertainer and now one of the UK's most respected female Gospel singers. Live Issue.
Admission is free to all concerts throughout the weekend with a freewill offering taken up each evening towards expenses. Car parking facilities will be located on the Gospel Fest site.
For directions and further information please visit www.liveissuemusic.com/gospelfest
Ulster Star
05/08/2011