Hillsborough is alive with songs of praise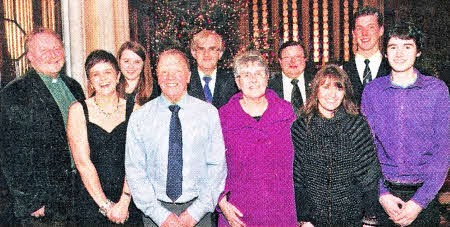 Some of the people who organised and took part in `Songs of Praise' at Hillsborough Parish Church. L to R: Nicola Prentice (nee Houston) and Norman, Mandy, Jayne and Jonathan Houston. Back row - Rev Mike Dornan (Curate), Jessica Hutchinson, Bill Clements (Castlewellan Accordion Band), Tom Whyte (Garvey Silver Band) and William Wallace (Waringsford Piper).
HILLSBOROUGH was 'alive with the sound of music' on Friday 2nd December when the historic St Malachy's Parish Church was the idyllic setting for a great evening of 'Songs of Praise'.
The evening of traditional hymns and choruses was the brainchild of organiser Norman Houston (Housty) and his wife Mandy.
Norman, together with local TV personality John Daly, compered the programme with a capacity audience lifting the rafters as they sang their hearts out.
Also taking part were Garvey Silver Band, Castlewellan Accordion Band, Jonathan Houston (Snetzler organ), Julie Bell (Piano), Nicola Prentice (Soloist), William Wallace (Piper), Brian Houston (Flautist) and Cboral Group - Eleanor Henderson, Sarah Eames and Jessica Hutchinson.
This was billed as a 'not to be missed' event and those who attended were certainly not disappointed — it was indeed an absolutely brilliant evening of music and song. A retiring collection was taken for church funds.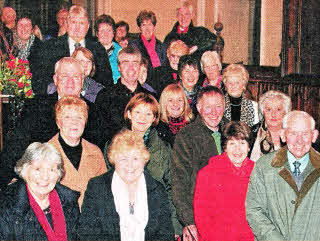 Some of the people who packed Hillsborough Parish Church for 'Songs of Praise'.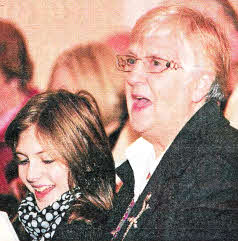 Gloria Spence and her granddaughter Amy Bainbridge joining in one of the great 'Songs of Praise'
Ulster Star
16/12//2011