Lisburn Cathedral hosts John Stott memorial service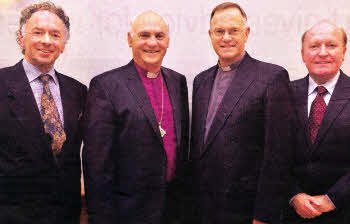 At the Ireland Memorial Service for John Stott in Lisburn Cathedral are Brooke Mullan, Bishop Ken Clarke, Dr Chris Wright, and the Rev Ferran Glenfield US4311-405PM Pic by Paul Murphy
ON Tuesday evening (October 18) Lisburn Cathedral hosted the Ireland Memorial Service for the late John Stott.
Friends gathered from far and near to remember together the life and work of this mighty man of God who has left behind him such a legacy that the Church will feed on it for generations to come.
Brooke Mullan, the Ireland Prayer Coordinator for Langham Partnership UK & Ireland explained: "While we honoured 'Uncle John', and rightly so, we were reminded too by Chris Wright in his address that the real honour belongs to Jesus, and John Stott would have agreed with that wholeheartedly. He wasn't a man who sought earthly fame or the praise of men, but one who wanted simply to be known as 'a follower of Jesus'.
"This is surely a challenge to all of us who claim to be His followers today. It was the cross that was ever the centre of John's thinking, of his service and of his daily walk. That was the secret of his humility - And how he loved to proclaim with passion those words of St Paul in Galatians: 'May I never boast in anything, except in the cross of our Lord Jesus Christ, through which the world has been crucified to me, and Ito the world.'
"As the New Irish Arts orchestra led us in that wonderful opening hymn, all hearts and voices were rightly directed to the risen, living Christ, in those triumphant words, 'Crown Him with many Crowns, the Lamb upon His throne'."
All of the hymns that sang at the Cathedral were also sung at the funeral service which was held at
All Souls in London.
Langham Partnership wish to thank Canon Rev Sam Wright and all the Cathedral staff for helping to make this evening such a success. "It will be a night long to be remembered by those who were able to be there," continued Mr Mullan.
"Also we wish to thank Bishop Ken Clarke, Rev David Bruce, Rev Ferran Glenfield, Prof Elizabeth Trimble and Mr Dermot O'Callaghan for their contributions to the service."
Langham Prayer Meetings are held three times a year in Belfast and Dublin and those who would like to be kept informed of them should contact Brooke Mullan, the Ireland Prayer Coordinator for Langham Partnership UK & Ireland on 02891863526 or email brookemullan@btinternet.com.
Ulster Star
21/10/2011