New Horizon welcomes increased attendances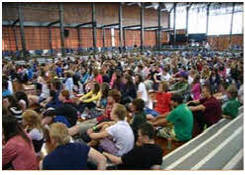 ORGANISERS of this year's New Horizon Christian Conference have hailed the event a resounding success.
Held recently on the University of Ulster campus, Coleraine, this year's event saw an increased attendance with the morning Bible readings and the evening celebration events attracting 30,000 visitors during the course of the week.
Organisers also received great encouragement for future events with 1000 young people attending the youth and children's programs.
James Smyth, Chairman of New Horizon, said All involved have been greatly encouraged by the very positive response to the teaching that was so diligently delivered during the week and I would wish to record our thanks to this year's speakers and indeed all those who provided leadership throughout the week".
Of course the event does not simply happen every year and before the crowds arrive, throughout the week and long after they are gone, an army of volunteers numbering nearly 400 ensure that New Horizon functions in the most efficient manner possible and each and every individual contribution is hugely appreciated."
The website proved to be a hub of activity during this year's event with over 5,000 visits and over 3000 visits to the blog.
For those who were unable to attend the event, recordings of the main talks from the week can be ordered on line at www.newhorizon.org.uk, queries can also be submitted via Facebook at www.facebook.com/newhorizonni on Twitter at www.twitter.com/newhorizonni, through contacting the New Horizon offtce on 028 2955 7157 or by email on office@newhorizon.org.uk.
Ulster Star
19/08/2011