Professor takes up Ohio post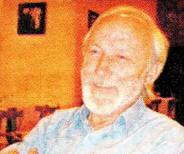 A PROFESSOR, born locally, has taken a four month post as acting Professor of Religious Studies in Ohio.
William Campbell PH.D was born at Loughview Road, Aldergrove, son of Alex and Mary Campbell and brother of Doreen and Pam. He studied English and Theology at Queen's University with postgraduate studies in Princeton, Dublin and Edinburgh.
His research has focused on Paul and his roots in Judaism. He has taught at the Universities of Sunderland, West Hill College and Birmingham. Throughout his career he has maintained strong links with the churches and he has published two important books on St Paul. He is professor of biblical studies at the University of Wales. He is a former pupil of Friends' School.
---
Now many loaves have you?
ON Friday March 4 at 8.00pm the women of Crumlin and District invite you to join with them to Killead Presbyterian Church as they join with people around the world to celebrate the annual Women's World Day of Prayer.
The Ireland representative of FEBA (Far East Broadcasting Association) Mr William Mateer is to be the speaker at the service.
The theme of the service will be bread and has been written by the women of Chile.
Jean Hackett, president of the National Committee of the Women's World Day of Prayer Movement,
said: "This is always an exciting day as a great wave of prayer sweeps the world, beginning when the first service is held in Tonga and continuing around the world until the final service takes place, some 35 hours later, in neighbouring Western Samoa.
"By then the day will have been celebrated in over 170 countries and over 5,000 services will have been held in England, Wales and Northern Ireland."
Stretching from Peru to Antarctica, the Republic of Chile occupies a long, narrow strip of land 2640 miles long and 110 miles wide. It is a land of incredible contrasts. It also has the highest incidence of domestic violence in Latin America and most women suffer from discrimination in some form or other. Equal opportunities are being pursued. Although organised and led by women, this is essentially a day of prayer for everybody as they demonstrate their solidarity with their sisters and brothers in other countries. All welcome to attend. Further information and resources, together with details of services in your area, can be found on the WWDP website at
---
Dunmurry Presbyterian moves `A-Cross the way'
DUNMURRY Presbyterian Church celebrated 150 years of worship and witness on their Ashley Park site last 0ctober. Now just three months on they commence a new chapter in that worship and witness as they open a new place of worship in the heart of Dunmurry village community.
The new building comprising Church, halls and meeting rooms will be officially opened and dedicated to the glory of God by the Moderator of the Presbyterian Church in Ireland this Saturday February 19 at 3pm. The new buildings on the site of the Church's original halls on Glenburn Road, took just over 12 months to complete. The complex, designed by Hall, Black and Douglas, built by Felix O'Hare and Co brings a new dimension to the Church's outreach from one site.
Ulster Star
18/02/2011