Jenny Munro talks to David McCall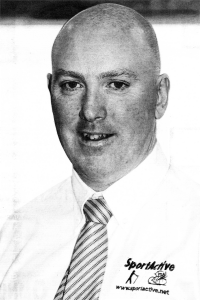 DAVID McCall, 44, co-owns SportActive, a Lisburn based company, which runs cycling and walking activity breaks in Europe.
He works alongside his business partner Martin Birney. Both men have a vast knowledge and experience in cycling and walking.
David is a former International racing cyclist with a long list of honours and has competed in four Commonwealth Games. His interest in hill walking began as a schoolboy and is something he does as a form of recreation and also to help him keep fit.
I get up early in the morning in order to do some physical training. I either go for a run or cycle and normally spend about two hours each day doing this. It is important in my line of work to stay fit and it is something I enjoy as well.
We specialise in cycling and walking holidays with a difference. The activity breaks run from March to October so during the winter months I spend a lot of time in the office in Lisburn checking emails, booking flights, arranging accommodation, sorting out itineraries and scheduling tour guides.
I send out literature to clients and respond to people's queries regarding the breaks.
We have a website so I update that when necessary and people can book online which means I do spend a lot of time using the computer. To be honest most of the office work is very boring. I much prefer the active side of the business.
Currently we are launching a new programme specifically designed for people who have never been on an activity break before and which caters for their level of fitness. We have had a lot of feedback from interested people so I think this idea will be successful.
My business partner and myself also conduct a lot of research when the tours aren't operating. Martin and I visit new areas we are thinking of bringing the tours to and also try and establish new contacts in the hospitality industry. We want to make sure we know exactly what our customers will be experiencing when they go along on the tours. Over the years we have made many contacts and this allows us to offer a great break away for our clients.
People book directly with us and we arrange everything for them. It's just like booking any other package holiday. We organise the flights, the transport from the airport, the hotels, the tour guides, and supply the necessary equipment. SportsActive is ATOL protected. ATOL protects you from losing your money or being stranded abroad. It does this by carrying out checks on the tour operators and travel organisers it licenses, so this reassures the customers.
A typical tour break usually consists of around 20 - 50 people. Numbers on each trip are limited. The nature of these small groups nurture a spirit of camaraderie and friendship. Folk travelling alone usually find they are not alone for too long.
In the spring and summer Martin and I go on as many of the tours as possible, adding a personal touch to the activity breaks.
The main areas we take tours to are Austria, Spain and France. It really is a unique holiday. We put everything together and the clients keep coming back and encourage their friends and family to book too.
When I'm based in the the office, most days I work until 8 or 9pm. The days can be long.
When I finish I go home and have dinner with my partner Helen. In my spare time I like to spend time with my children and I enjoy socialising whenever I get a chance. I try to get to bed at 11.30pm. I need a good night's sleep.
For further information email info@SportActive.net
Ulster Star
22/12/2006