Jenny Munroe talks to Martine Bell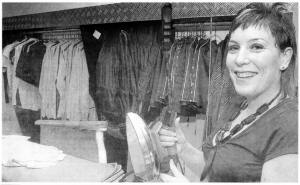 MARTINE Bell is the proprietor of Long Johns Laundry, based at Harmony Hill Shopping Centre. She is married to John and they have a nine-year-old daughter called Hannah and live in Dunmurry.
Having spent ten years working in the hospitality industry, Martine decided it was time to diversify into a new business venture. After serious consideration, and with the support of their family, Martine and John started their laundry business a few months ago.
I get up at 7 o'clock and prepare for the day ahead. I get Hannah ready for school and we have breakfast.
John leaves at 7.30am to go to work in Belfast. Although he has another business interest he is very much involved in the Laundry business too.
I leave Hannah to school and then drive to work. I switch everything on and check the deliveries which Robert, my father-in-law, comes to get each morning.
I have contract work so we collect and deliver laundry from businesses such as hairdressers, who have a big need for the service we provide. We also offer a collection and delivery service to clients who have difficulties getting out and about.
I'll make sure Robert has a float and a list of all the deliveries and collections he has to make that particular day.
Throughout the day I put on service washes, iron and deal with people coming in with their washing. I like to have a quick turnover and have people's washing ready as soon as possible.
Word has spread about the service we provide and I am kept busy. Local sports clubs bring in kits so that makes up a lot of the washing I do. The shop is open-plan so the customers can see exactly what is going on.
Twice a day Robert goes to a local dry-cleaning company with garments which need special treatment. I'll mark off the items sent and then returned.
Usually I don't get much time to myself so l don't have a set lunch hour. I'll have something to eat when it quietens down which is normally around 2-3pm. If I need any banking done or something attended to Robert is always willing to help out. I would be lost without him and my husband!
Once a week my sister-in-law - who is an interior designer - spends a day at the shop making alterations to items which people have left in. I enjoy the company and it's nice that my family is so willing to help me out.
During any spare time I have I think of ways to improve the business. I work on marketing and advertising ideas and I am planning to attend a three-day course in London in order to achieve a Launders' Guild. I also work on the administration jobs during any quiet times.
My daughter is collected at school by her Granny who brings her to the shop.
Hannah will then spend the rest of the afternoon helping me out and doing her homework.
Once the shop is closed we go home to Dunmurry and John will most likely have already started to prepare our dinner.
Once we've had dinner we like to relax. We take our dog Oscar out for a walk. I'll make sure Hannah has everything ready for school the next day before bathing and putting her to bed.
Before starting the business I went to the gym regularly but I just don't have the time or energy to go as often.
Then John and I like to watch TV before heading to bed around 10.30pm.
Ulster Star
06/01/2006