Jenny Monroe talks to Nikki Shaw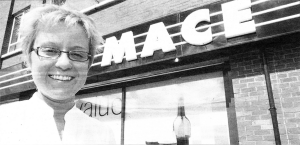 DUNMURRY woman Nikki Shaw, 27, is a PR Executive for Mace, based at Derriaghy Wholesaler and Distributor firm J & J Haslett Ltd. As a business studies student Nikki worked part-time in various departments within the local company and, after graduating from university, she soon entered the world of public relations.
1 arrive at my office most days at 8.30am. It only takes me a few minutes to drive from Dunmurry so it's very handy.
I check my emails and see if there is anything, which needs to be dealt with immediately.
My job essentially is to ensure the credibility and confidence in the Mace symbol through all media.
I work on public relations campaigns - targeted at consumers, retailers, suppliers and the business community in general.
My main duties include organising corporate events, co-ordinating competitions, updating the website, writing press releases. liaising with graphic designers and advertising and promotion agencies. My key role is to obtain as much exposure for the brand as possible.
Depending on what events are forthcoming will dictate what I am working on each day. At present 1 am particularly busy making sure everything is set in place for the Mace Race Day at Downpatrick racecourse in September.
I have to ensure that the day goes off without any problems. I liase with the Director of the racecourse, drinks suppliers and caterers and make sure everything is set in place.
When a competition is due to run I inform a PR company, and let them know what the budget is and then they contact newspapers and other media sources to book in the appropriate advertising space.
I am also involved with store openings, promotions, competitions, community initiatives and sponsorships. Each initiative is planned to successfully increase brand awareness across the Province.
I arrange official openings of new stores and this includes organising fun days. I like to get pictures into the local press and trade magazines if such an event is taking place.
I promote the brand name with the use of the award winning characters the `Maceys'. Costumes of the Macey characters have been made so I organise promotional people to dress up in them and appear at events all over the country. It's a great promotional tool as a lot of people are familiar with the characters.
If I am not out and about the province I am found in the office writing reports and planning promotional campaigns. I speak to my boss on a regular basis too.
Each month I have to produce a report and present it to the Company Directors. This is quite a detailed report and I put a lot of effort into it.
Most days I finish work at 5pm although sometimes I have to attend corporate events in the evening. You definitely need to be flexible in this job. I make the appropriate arrangements as well as overseeing the events. I might also have to attend industry business awards and other events that help build business links and relationships.
When l get home I like to switch off and have dinner. Some nights I meet up with friends and family or chat to them on the phone.
As I am getting married next month I am busy finalising last minute things and doing a spot of DIY on my new house. I also go to the gym three nights a week so I am always out and about doing something. After watching the television I usually head to bed.
Ulster Star
04/08/2006