Jenny Munro talks to Ciara McAteer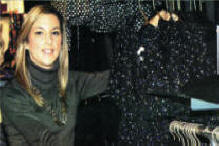 CIARA McAteer, 27, co-owns fashion store ICHI with her business partner Lisa Carnahan, 28. Ciara studied graphic design at the University of Ulster before becoming a buyer for Northern Ireland's largest independent retailer.
The girls decided to combine Lisa's marketing skills with Ciara's retail experience and set up their own clothing store. They approached Danish company ICHI and were soon given the green light to open the UK's first ICHI store.
The girls have now been successfully running their business at Wallace Buildings, in Market Place, for seven months.
I get up at 7.15am have breakfast and get ready. I select an outfit to wear the night before, as it is important that I promote the ICHI brand.
When I get to the shop, usually around 8.00am, Lisa and I prioritise what needs to be done that day. We'll set our daily objectives for the day incorporating sales targets, new stock, bestsellers and if there is time we'll do some administration work.
Lisa and myself work full time along with four part time staff. We run everything from buying the clothes, which involves four main buys per season, to organizing delivery schedules, dealing with customers and merchandising. We are very lucky that we get on so well considering to the amount of time we spend together. The store has to be continuously merchandised due to the weekly deliveries that we receive, stock needs to be filled out and we have to keep track of the sizes and sales figures and write reports to give feedback to ICHI'S team in Denmark. We have partner meetings twice a year with ICHI in Copenhagen and it is important to be able to discuss our sales and how the business is performing.
We ensure that everyone who comes into the store is made to feel welcome - interaction with the public adds that personal touch.
Lisa and I are on hand if they need any help and we could spend anything between five and 40 minutes helping a customer choose an outfit. The store definitely has a boutique feel about it but at high street prices. Today women have more freedom and independence than ever before. As creative individualists, they want to develop their own personal style and ICHI can help them do this.
We run a V.I.P club to engage with our existing customers, keeping them updated with promotions and new arrivals instore. This is executed through text and we find it a great marketing tool.
Running a business has been a big learning curve for us both but we have been getting a lot of advice from Invest NI and other organisations who help people starting up in business.
At the end of the day our objectives are reviewed and we make sure the store is tidy for the next day. We go through sales figures and write up sales reports. Once this is done we lock up.
In the evenings I enjoy spending time with my partner Chris and socialising with friends and family.
I am delighted to have taken the plunge and set up in business, it really is going from strength to strength and we hope to be able to expand in the next few years.
Ulster Star
09/11/2007