Jenny Munro talks to Tiffany McLorn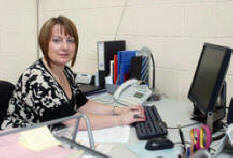 TIFFANY McLorn, 35, recently went into partnership with Kevin Harper to form H&M Services - energy solutions. Having worked together in a similar company they decided to set up their own business and are based in Lisburn Enterprise Centre, providing a province wide service.
H&M Services specialise in oil and gas boiler service and repair for both the domestic and the commercial customer. The company also carries out plumbing and electrical repairs. The firm is Oftec and Corgi registered and a member of The Federation of Small Businesses and has branched into the servicing of solar panels and wood pellet boilers.
Tiffany lives in Dromore with her husband Gary.
I wake up at 6am, have some breakfast and get ready for work. I leave my house in Dromore and I usually arrive at the office at Sam. Firstly I check the answer machine and my emails and spend some time responding to these. I then speak to the engineers and advise them on their work programme for the day.
Following this I go through the previous day's work reports, checking the jobs are finished and order any parts that may be required. I then follow this up by contacting the customers and advising them when the parts will be in and the job completed. We provide a quick and efficient service and offer domestic customers a two hour time slot for appointments instead of the standard am/pm offered by most service companies.
We are currently running an ad campaign to advise customers on gas safety awareness and the importance of having gas appliances checked regularly. This is really vital. Corgi recommends gas appliances are serviced once per annum and this is also law for landlords.
More and more people are dropping into the office to get information and also throughout the day I take calls from customers requesting work be done and I arrange times for this and plan the work schedule for the engineers for the following day. I also deal with engineers' queries including checking availability of parts required for a job.
The afternoons are usually spent going out to see prospective customers. A large portion of our work is done with commercial customers who want us to look after all their maintenance requirements and we would offer a free survey for them whereby Kevin or myself would call and carry out a survey of the equipment installed and provide a quotation for an annual service maintenance package.
I also call at regular intervals with existing customers to check on customer satisfaction and quality of work. I feel after sales is very important and we have found that if the customer is happy it will repeat business for ourselves.
As well as the general running of the company with Kevin I deal with the invoicing and credit control. Kevin and I regularly discuss pending jobs and ways we can market the firm further.
I am involved with the `women in business' group and once a month I meet up with my mentor who sets me tasks and helps me with business strategies. I find this very helpful and would encourage other women to join.
At the end of the day I finish up and have a look at what is scheduled for the next day. Then I head home at 6pm, make dinner and catch up with my husband.
I enjoy walking in the evenings and I like to watch property and DIY programmes. I love thinking of ways to improve my house.
I am glad the business has turned out so well - there is a lot to be said about working for yourself. Yes it can be stressful but it's great to be able to make your own decisions.
Ulster Star
24/07/2007