Jenny Munro talks to Tracy Lowry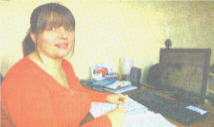 TRACY Lowry, 32, is a travel agent for UK firm Travel Counsellors and is based at her Stoneyford home. Having two children, Tracy finds working for the firm rewarding as it fulfils her of love of working in the travel industry as well as suiting her family's needs. Travel Counsellors is one of the UK's largest independent travel companies, with over 850 professional Travel Counsellors working from home throughout the UK and overseas.
I am normally awake at 5.30am with my youngest child Ben who is 19 months. prepare breakfast and help my older son .Ryan get ready for school. My sister and take our children to school on alterative weeks.
Once Ryan is at school I go into my office and get stuck into my work. My partner Leslie, who works night shift, or my sister help look after the baby
I check my emails and look in my diary to see what have planned for the day ahead. At this time of year I concentrate on a marketing plan and do leaflet drops to promote my services.
I am in contact with the head office every week and have business development meetings using a web cam.
I receive company updates regularly and am informed of any new travel counsellors who have joined the firm. This happens every Wednesday morning at 10.30am via the Travel Counsellors TV My work is generated by word of mouth and referrals. People call me to help organise their holiday and I am available day or night to give them travel advice or help them with any queries.
I get a lot of phone inquiries throughout the day. I could be organising everything from a group trip to a complicated honey-moon itinerary.
I have access to a central computer system which allows me to make up individual packages and offer the customer the best deal possible. I organise everything form the tickets to the hire cars and clients can call me from their holiday if they have any issues and I will get it sorted immediately. Thankfully this doesn't often happen.
The company which now operates across seven countries and is the largest home-based travel company in the world, provides me with great support and award winning technology, enabling me to tailor make travel arrangements for my customers at competitive prices. As I work from home I am available to my customers at a time convenient to them, including evenings and weekends.
My son comes home from school at 3pm, and I make sure he does his homework before I make the dinner and enjoy some family time.
Ben goes to bed at 7.30pm and Ryan will play on his computer before bedtime. At 9pm I often do some more work in the office and make sure everything is in order and all the bookings from that day have been confirmed and recorded properly.
I do home visits too and bring my laptop with me so people can plan their holiday from the comfort of their own homes. Sometimes I am out at Travel Agent functions and I am a member of Women in Business and attend networking functions and go to conferences arranged by the head office.
But usually by 11pm I am shattered and ready to go to bed. 1 enjoy my work as it is very rewarding and is flexible for family life. I am proud to be part of such an innovative, customer focused company
Ulster Star
30/11/2007