Jenny Munro talks to DJ Andy Baird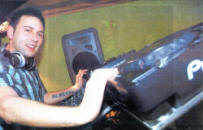 LOCAL man Andy Baird has been involved in the DJ world since he was a teenager. At the age of 14 he promoted and played his first gig at Legacurry Youth Club to 300 people and soon developed a taste for playing to big crowds, gaining experience with his AB Mobile Disco rig all over Northern Ireland. The 27-year-old got his break into the Belfast DJ circuit when a leading Belfast promoter booked him, at very short notice, to play in a club in University Street for the World Water Polo Players' after show party. He now plays in Benedict's of Belfast and Barretro. Hillsborough,
During the day Andy works as a sales executive with Phillip McCallen Motorcycles in Lurgan. He is married to Tammy and they have a two and a half old daughter called Mia.
I leave home and head to work in Lurgan for 9am. When I'm not working as a DJ I am selling Kawasaki and Triumph new and used motorcycles, together with finance and clothing. Selling motorcycles means meeting a wide range of bike users male and female. from the first timers to the retired who have the time and cash to pursue their dreams. Phillip McCallen is opening another shop at Lissue Industrial Estate, Lisburn, at the end of March, which will mean less travelling to work every day. I usually finish at 6pm and go home to have tea with my family.
Over the years I have played in most of the well-known spots in Belfast including Laverys. Renshaws, Hunters, Bar Mocha, M Club, Orpheus & Underworld. Roxy @ Robinson's and the V bar. I have also worked with 'Lock and Load' and Atomic Kitten.
When I am working in Barretro I usually arrive at 10pm. I switch on all the amps and speakers and turn the house system over to the club system. I also do a sound microphone and lights check to make sure everything is working properly. The sound system in Barretro is permanently installed so there really isn't a lot of work involved and I don't have much plugging to do.
The Bar Manager will make me aware of any promotions that have to be announced over the microphone. I then start my set around 10.30pm and play through until lam. A typical night will include people asking me for all sorts of music - anything from 70s and 80s music to the latest dance anthems. I am on a number of record labels' lists and am sent out promotional singles to play when I'm working. In return I send back a weekly reaction chart to each song I have played. This feedback and crowd reaction helps decide if a song will be released in the UK singles chart. Usually as my set goes on the requests get more and more unusual.
Some DJ's only play music but I do use the microphone to announce birthdays, engagements, wedding anniversaries and any type of celebration that the customer wants to share. I also host events such as Miss Northern Ireland events in Barretro and I am sometimes asked to judge DJ competitions. I really don't consider it as work - it is just the joy of sharing my choice of music with friends. Once I have finished my set in Hillsborough around 12.50am I pack up and head home and go to sleep.
Time off for me is spent with my wife and Mia who is already showing signs that she, might well be another budding DJ.
Ulster Star
01/02/2008