Jenny Monroe talks to Brenda McCoy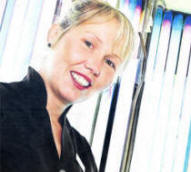 BRENDA McCoy, 31, owns Tan City and Beauty Rooms in Longstone Street.
She is married with two young boys aged three and two and lives in Newry where she operates another branch of Tan City and runs an online supplier of professional skincare, tanning, nailcare, slimming and cosmetic/make-up products and online skin therapy and skin advice.
Brenda worked in the hotel industry in Bournemouth and moved back home when she met her husband. She worked for Tan City for six years before the opportunity to buy the business presented itself last November.
I wake up at 7am, get ready, have breakfast and organise the children who are looked after at home by a childminder. When the childminder arrives I head to the Newry branch before driving to Lisburn.
Everyday is really different. I'm busy trying to get beauty brochures for Christmas ready and that is taking up most of my time at the moment.
At Tan City, as well as the sun beds, there are the beauty rooms which also incorporate a nail clinic, offering a range of nail treatments. I have introduced Power Plate Vibration Training Machines too as I wanted to expand the business and after a lot of careful research I decided the vibration-exercise plate workout would be popular.
It adds a new dimension in wellness solutions for all ages, lifestyles and physical abilities. The potential benefits from incorporating a Power Plate workout into your regular routine, whether you are an elite-level athlete, fitness enthusiast, or average user, are tremendous. I am normally in Lisburn around 10 am or 11am a couple of days a week. I speak with the staff to find out what is going on and make sure everything is ticking over nicely. I like to think that I have established a good rapport with the customers - there is always good craic in the salon.
I check with the managers that there is enough stock and I go through the administration work and make sure everything is up to date.
Once I've finished in Lisburn I head back to my office in Newry. As well as running the two salons I also operate the care4yourskin.com website that offers a large selection of quality skincare, beauty and healthcare products at affordable prices for people to enjoy in the comfort of their own home.
We supply products to Ireland, the UK, Europe, EU and worldwide, and pride ourselves in low prices, a high level of customer service and the personal touch which few other online retailers offer.
We employ professional therapists and can give people expert advice either by completing our skin consultation form, or simply contacting us by telephone or email to discuss beauty treatments, tanning or our slimming products. make sure everything is running smoothly but the staff are very efficient in checking orders and sending them out to the customers.
Once I have finished my work for the day I head home and make dinner. There's a chance to spend time with my family and once the children are in bed I'll probably do some more paperwork. In my spare time I love visiting my mum.
Running the business and having a young family is hard work but I have a great team behind me and it is very satisfying meeting the customers' demands.
Ulster Star
10/10/2008