Jenny Munro talks to Gillian Best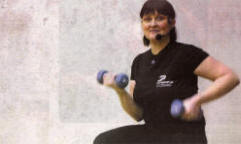 GILLIAN Best, 37, is a fitness instructor from Maghaberry. She is married to Gibby and they have two sons, Joel, 7, and Mackenzie, 4. During the day Gillian works as a quality assurance surveyor for a local company in Crumlin.
From a young age she developed an interest in fitness and aerobics and decided to train as an instructor herself. With eleven years experience in fitness she now takes 'Simply G Best Fitness' classes in 'step and sculpt', 'legs, turns and bums', and 'fitness pilates'.
Three or four mornings a week I get up at 6am and jog for two and a half miles. In the spring/summer I go out around the village but in winter/autumn I use my treadmill at home. At the weekend I would normally run four and a half miles. As an instructor I obviously have to maintain a high level of fitness.
After jogging, I shower and get ready for work. My mother comes to the house and she looks after the boys and takes them to school so I can leave for my day job in Crumlin, where I start at 8am.
I finish at 4.30pm and head home to spend time with my children, sorting out their homeworks and making them dinner. Then I prepare for the fitness classes, which are held on Tuesdays and Wednesdays as well as Saturdays.
On a Tuesday night I have a 'legs, tums and bums' class in Crumlin that starts at 8pm. I will leave my house around 7.30pm. When 1 get to the community centre I have to unload the car and bring the necessary equipment into the centre. I sort out the music player, put on a head set with a microphone, put out a money tin and signing in book, make sure there is water and cups available and set out mats and weights.
As the members begin to arrive I will have a general chat with them and if there's any new participants I give them a health questionnaire to fill out. If anyone started the week before I talk to them to see how they felt after their first class. I also ask the class for feedback on certain routines and anything they would like to see added or changed.
I begin with a warm up to mobilise the joints and get heart rates up then it's into the cardiovascular exercises for around 25 minutes, followed by a cool down. It is a choreographed routine. Next I move on to the weights for toning work for the upper and lower body. The aim of using the weights is to help change the shape of the body. I use the most up-to-date exercises throughout.
Then the next stage is to get mats out and spend time working the tummy muscles. Usually 10 minutes is spent on this as it is quite hard and continuous. I then show the class how to do stretches to cool down and relax the muscles so they don't feel sore the next day. Once the class is over I talk to members and make sure everyone is ok before packing up. I also take 'step and sculpt' classes in the 'Church on the hill' in Maghaberry on Wednesdays at 7.30 pm and on Saturdays in Crumlin at 10.30am. This has a similar format to the other class but platforms are used. Using a combination of body bars and hand weights the aim of the class is to help change the entire shape of the body by using the most up to date exercises that work. Effective technique is the key.
I also take a fitness pilates class on Wednesdays in Maghaberry at 6.30pm. In 2006 I attended a training course on pilates and started teaching it last year. It is such a focused and concentrated form of exercise and is ideal for anyone starting exercise or wanting to get back into it. Pilates strengthens the abdominals, improves posture, spinal strength sand flexibility and works on strengthening the weakest areas of the body.
It is a focused concentrated exercise and is great for strengthening abdominal muscles, improving posture and flexibility. People of various ages and sizes enjoy this class. After the classes finish I go home and usually make lunches before having a cup of tea and doing things around the house. In my spare time I enjoy taking the boys out on their bikes around Moira Park.
After winding down and chilling out I normally head to bed around 10.30pm.
Ulster Star
08/02/2008