Jenny Munro talks to Peter Hunniford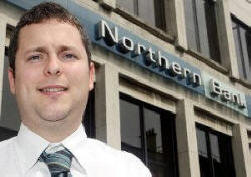 PETER Hunniford, 25, is a Customer Advisor/Student Officer with the Lisburn Branch of Northern Bank in Bow Street. He recently married Sharon and has been with the bank for seven and a half years. After leaving school Peter went straight into employment as a cashier and has been based in Lisburn for four and half years.
I normally leave home around 8.10am and arrive at work for 8.55am. When I get to my desk I first of all check for emails and then attend a team meeting which lasts about 15 minutes.
My first appointment with a customer is usually at 9.45am. I spend my day talking to new and existing customers advising them day-to-day financial issues. On average I will book in three appointments a day with each lasting between half an hour and three hours depending on the client's needs.
I sit in an area which is accessible to our customers coming into the bank so if I'm not busy customers can arrange a meeting with me or ask me for information there and then.
My big focus at this particular time of the year is the youth market and I have been dealing with a lot of student queries. I provide information and act as a guide to students and their parents. I can open accounts specifically tailored for their needs and I can provide budgeting tips. The bank has a popular 'Money Talks' programme which includes practical support materials such as CDs and workbooks for these sessions. Both the students and teachers find these helpful.
When a customer arrives I capture their details on an Advise system which the bank operates.
With existing customers I type in their details and their customer information will appear. Once I know the issues the customer has I can then make recommendations using an advisory tool which collects the information as I type it in and allows me to make a judgement.
Then, once the customer is happy and makes a decision, they will also get a copy of what they have agreed to. I then tell the customer what will happen next and what to expect from our service. Once they leave I then hand over the details to administration who process books and cards and post them out to the customers.
I follow up the meeting with a courtesy call just to make sure the customer is satisfied and everything is running smoothly in their banking affairs. Ensuring customer happiness is vital.
In the afternoon I check emails and requests. Sometimes customers email our customer department who then pass them on to me and I get back to the person as quickly as possible.
I continue to phone customers and check my diary to make sure everything I have planned is up-to-date. We use a Lotus system which all the staff have access to.
This means that if I am out of the office and someone would like to see me, another member of staff can look at my diary and schedule an appointment. This is why it is so important that I keep my diary up-to-date. In fact my calendar is basically on my screen all day and each day is structured so that everything I am planning to do is recorded. I normally make sure I have time allotted for a lunch break but I have to work around the customers. If I get out I take a walk and buy a newspaper and have a cup of tea and something to eat and generally try to clear my head so I am fresh for the customers on my return.
When I get back I may have another appointment and when it's over I continue to make courtesy calls. By 5pm I hope to have finished everything I had planned to do that day and once I've checked I have tied up all the loose ends I'll leave for home. My wife is home before me in the evenings so she will have the dinner ready by the time I get back. We sit down and chat about our day and then we take our dog out for a walk. I enjoy playing outdoor bowls so a lot of my evenings in the summer revolve around this. Most nights I head to bed around 11pm.
Ulster Star
18/07/2008