Jenny Monroe talks to Amber Gordon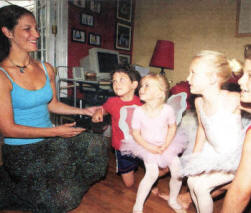 AMBER Gordon, 38, from Culcavy runs the Amber Gordon School of Dance. Her dance career began at the age of just four when she was enrolled to begin ballet classes. She danced at the same school until she was 16, taking all her exams right up to what was then Elementary Ballet with the Royal Academy of Dance, London. Amber danced with amateur dramatic societies at the Grand Opera House and Arts Theatre, and on leaving school took a Performing Arts BTec until she was awarded a Talented Child Bursary from the Arts Council - which enabled her then to audition with the large Dance colleges in England. Amber accepted an offer from Hammond School in Chester and embarked on an intense three year Professional Dancer/Dance Teaching Course. After graduating she accepted a job offer to work with two dance schools in Greece where she met her husband George and stayed there for seven years. Eventually she moved home in 2002 and opened her own school in Hillsborough. She is the mother of four boys.
The school is based at the Hillsborough Village Centre and also the Lagan Valle; Leisureplex and runs three days a week. This is great for me as I have four boys aged 9, 4, 3 and 1, so I have plenty of time with them.
On the days that I am working I get up about 8am and help the older children get ready. I then spend some time preparing dances to teach the students later on in the day. I offer various dance classes for all ages from 3 years to adult and the classes range from RAD Ballet, ISTD Modern Theatre, and Tap..
Royal Academy of Dance Ballet Exams are taken yearly, and on alternate years Imperial Society of Teachers of Dance Modern Theatre Exams are taken. I am proud to say the School achieves a 100% pass rate with high results. School performances are very big events, involving the entire school and we do one every other year showing Ballet, modern, and tap classes. The show is held in the Island Hall, at The Lisburn Civic Centre and it is usually a very busy time of the year for me when it is being put together but it is always worth the effort.
At the classes we build up dance moves week by week until the students know the whole number and then it is just a case of cleaning the moves up and making the performance look good. A class normally has around 10-20 students at any time with both boys and girls.They arrive at the dance hall and the first few minutes are spent doing the register and chatting to the younger children who like to tell me about their day. Then we will start to do warm up exercises and play games with the younger ones to get their imaginations flowing. Then we move on to the class excerises before finishing with curtsey.
Children from P2 age can start to do exams and work from a set syllabus and learn French terminology. After Christmas time the hard work really begins for exams and shows.
As well as actually teaching the classes I have other things to do like ordering costumes and entering students for exams. I also have to book an examiner to come over and organise travel and accommodation for them. Writing letters to parents and keeping records of achievement up to date also keeps me busy.
Most evenings I finish at 7pm and go home and see to my kids before spending time with my husband. I also tidy up any paper work I didn't get a chance to finish during the day.
I am very happy that I made the decision to come back to Hillsborough and set up the school. It has been well supported and I really enjoy teaching others how to dance.
Ulster Star
31/07/2009