Jenny Monroe talks to Avril Robinson, owner of new fashion boutique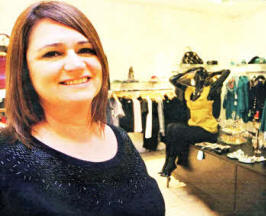 Lisburn's new editor boutique in Lisburn Square is the latest venture of local business woman Avril Robinson who also owns a second editor store in Coleraine and Part Two stores in Lisburn and Ballymena.
Avril has been working in the fashion industry for 23 years starting out with her own boutique in Newtownards which was sold five years later to set up Inson fashion agency in Belfast. Avril still heads up Inson which has grown to become one of the largest fashion agencies in UK and Ireland selling fashion from Copenhagen, Italy and France to clients throughout Ireland.
I really don't have a typical day as I could be travelling to various countries, looking at fashion collections for the agency or buying for the Shops or working in our Belfast showrooms and visiting the shops.
When I'm in the showroom I start by catching up on my emails and have meetings with our busy team before starting sales meetings with our clients. It is all very hectic but I love every minute. My job involves a lot of travelling around Europe to bring back fabulous collections to lots of different boutiques and department stores.
I like to visit our own stores weekly and view them just as a customer would — I like to get that WOW factor each time as visual impact is so important in fashion. I'll chat to the managers and catch up with the staff, answer any queries and give styling advice. Editor offers fashionistas a new concept in style, catering for young women in the 18-35 age group.
We chose the name Editor to create a magazine vibe which is reflected throughout the store. Just as magazines constantly change we keeping abreast of evolving fashions so we highlight key looks on a weekly basis, showing our customers how to be 'on trend' with our affordable, individual and quirky clothes.
Complementing the fashion we also stock an extensive collection of costume jewellery and selected beauty items such as lip-balm and nail varnishes which give that professional finish to a customer's new look.
The Fashion Agency is incredibly demanding and requires travel to various conferences around Europe where future trends are set and discussed and I get to see all the fashion trends at least a year before they reach the streets. There will be catwalk shows and business dinners and lots of meetings to settle details of styles and discuss best sellers, colour stories, price of collections and brand perspectives. It is vitally important that the collections suit your customer so a lot of attention is placed on tailoring collections it for our market as each country can have its specific requirements. These are long and intense days but it is a very important aspect of my job. When I return, I will give my clients feedback and estimates and will invite them to view the collections for themselves. I absolutely love the new Lisburn Store it is bright vibrant and shows off the very individual clothing so well! The response has been fantastic so far. I don't think I could do my job if I wasn't so passionate about fashion. Selling to customers as well as running an agency is important to me. Helping people to look the best they can is rewarding and uplifting for me and others too.
In my spare time I enjoy long walks with my hubby and cocker spaniel Maddy on Ballywalter beach, baking and painting and of course I love it when the whole family is together which isn't that often now as my twins, son and daughter Scott and Hannah have busy schedules too.
Ulster Star
25/12/2009