Jenny Monroe talks to Barbara Black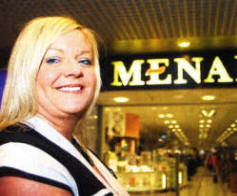 BARBARA Black, 39, is store Manager of Menarys and Tempest in Bow Street Mall . She started out working for the company part-time in Portadown, where she now lives with her mother and 12 year old daughter. She soon worked her way up to become Manager before moving to manage the Dungannon store for two years.
Menarys is a long and well-established department store catering for the clothing and home needs of fashionable and aspiring customers. It is a family business, which began in 1923 in Dungannon, County Tyrone, and is now trading in 17 locations throughout Ireland.
I get up about a 6.45am and get ready. Image is very important in my job - I am always buying clothes from the store.
I then sort out breakfast and drop my daughter to the bus stop for 8am. There is always so much going on the day flies in. I do some paperwork before the store opens at 9.30am when I will go on to the shop floor and do a walk about seeing what needs to be done. I organise breaks, talk to the department Managers and chat to the staff about the previous day's targets and what is expected on that particular day. Then I go back to my office to check emails from head office, human resources, buyers and area managers to name a few. When I've finished replying I'll go on to the floor again and if there are any moves which need to be done I'll help merchandise and re-do the displays. I try and plan any big moves in the store a week in advance. Planning is essential.
There is a big delivery on a Wednesday so all the stock from that has to be marked off and put out onto the floor.
I like to spend an afternoon in the different departments including Tempest, which is a separate business but owned by Menarys. The idea behind Tempest is to bring together a range of cutting edge high street fashion and footwear retailers to offer the variety and choice the younger customer demands. Tempest offers the convenience of a department store but in an environment and atmosphere designed specifically with this younger customer in mind. I oversee the running of Tempest and have regular meetings with the staff to discuss the business.
I keep a close eye on the sales figures and at lunch time I like to look the figures up on the computer to see how trade is going that day. If targets haven't been met I will try to encourage the staff to meet their targets. I am also about to help with customer queries and refunds and generally making sure the store is running smoothly.
As a member of Bow Street Mall Committee I regularly attend meetings to discuss issues like ad campaigns and holiday opening hours. I work about 42 hours a week and occasionally work in the evenings but mostly
I knish around 6pm. Before 1 leave 1 hand over notes on anything that needs to be done and updates for the Assistant Manager. These memos are very important.
I then head home to Portadown. My mother lives with me and my daughter so I am very fortunate because she will have the dinner ready for us coming in - I don't need to worry about starting to make a meal. I spend the rest of the evening making sure Chloe has her homework done and then I relax before bed.
I've worked for the company for 23 years and I thoroughly enjoy it. They are great to work for and from day one have encouraged me to reach my potential. They believed in me and have shown me a lot of encouragement and support throughout the years.
Ulster Star
18/09/2009