Jenny Monroe talks to singer, songwriter Brian Houston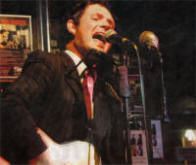 BRIAN Houston a singer/ songwriter, will be in Lisburn on January 17 at the Island Centre to help promote the Tinylife concert.
Growing up on the east side of Belfast, during the 1970s, the Troubles were to shape Brian's songwriting. Equally influential were songwriters like Kris Kristopherson and John Prine, who were almost-force fed to a young Brian by his father. A collection of Hank Williams tapes were also part of the education. Always the rebel, Elvis Presley became a new love, adding a rock'n'roll edge to Brian's music. It wasn't until Brian was hitting working age that he really got the music bug and with other influences (including Bob Dylan and Elvis Costello) he only then began to write and play his own songs. Brian soon graduated from church halls to local bars and clubs; satisfying audiences more used to hearing chart covers would toughen up anyone as well as hone vocal and playing skills. The 90s' saw Brian record a series of his demos and soon gigs became tours. He is married with two children and worked as a carpenter before his singing career took off.
There is no such thing as a typical day for me. Basically if I have been working at a gig the night before I don't get up until about 9am, otherwise I'm awake at 7.30am or so.
First of all I do domestic things like walking the dog. Then I will go into my office at the house and start going through correspondence. Sometimes if I have a gig outside Northern Ireland I'll organise flights and make schedules. I spend a lot of time on the internet updating my website. The internet is essential for my line of work. It makes it so much easier to let people know when and where I will be touring. My wife Pauline handles the sales and merchandise side of the business. We run an internet shop where people can purchase my albums and other bits and pieces. Between the two of us we also put a newsletter together. Then we have to sit down and make sure everyone we hire in has been paid.
As well as writing material and singing it I am involved with the production and artwork of the cd's, organising tours, setting up publicity pictures and marketing the albums.
I have a studio in Hillsborough and often can be found there writing songs and recording them. I rummage though material I have recorded and put it all into categories. My time is divided into creating material and investing in the business, managing and showcasing. My wife and I have to be very organised and even when we are travelling to gigs and on tour we are still working away using the internet and email. We get a lot of inquiries each week from people who want me to play at weddings and at different events. Some people will even pay to fly me over to a wedding. It really is a full on 24/7 job. It's just a matter of delegating and balancing everything. The project manager is somebody who I frequently liaise with. He plays a big part in co-ordinating my gigs in England.
If I am working at an event the whole day will be devoted to the show. I'll check I have all the equipment and instruments, load them into the van if it is a local event and head off. Pauline will make sure there is plenty of merchandise too. We arrive at the venue, do a sound check and set up.
Then I chill out before going on stage where I normally stay for two and a half hours. I do meet and greets as well. After this we pack up and head home and straight to bed. The momentum really keeps me going.
Ulster Star
16/01/2009