Jenny Monroe talks to Cordelia Coyle of Devilish Cupcakes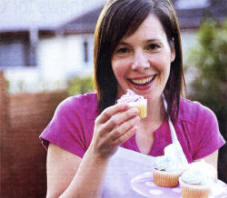 CORDELIA Coyle, 39, runs a business called 'Devilish Cupcakes'. Originally from Toronto she is now living in Lisburn with her husband and their baby son. Cordelia went to nutrition school in Canada and is a certified nutritional consultant. Her passion lies in baking and as she enjoyed making cupcakes so much she decided to set up in business this year once her son had turned one years of age and she had settled into her new home.
I'm lucky if I get to sleep in until 7am and from then it is all about my young son Aidan. We have breakfast and after that I will check the Internet for emails and orders. I spend some time going on line looking at sites where people like myself share recipes and photos of cupcakes.
Mid morning I normally take the baby out to swimming class or to some of the other mothers and baby groups. I often take a dander into the city centre to buy ingredients for my cupcakes. I regularly go to the health shop to get items that don't have artificial colourings or additives. I use the freshest natural and organic ingredients including real fruit, vegetables, herbs, spices and extracts which are used for the cakes, frosting, colour and flavour. There's a much wider range of the type of ingredients I use In Toronto than there is here so I do spend a lot of time trying to source ingredients. In the afternoon Aidan has a nap and that's when I do my cleaning and organising in the kitchen. I develop and taste recipes while I have peace and quiet. I am always looking at what the customer's are asking for and will try to accommodate - for instance as well as the classic cupcakes I make vegan and gluten-free cupcakes that taste and look amazing. I also try to come up with a new flavour each month.
The cupcakes are available in chocolate or vanilla cake topped with a variety of butter-cream frostings. Ingredients include organic flour, sugar, milk and butter. I exclusively use organic cocoa and chocolate and the cakes are egg-free and easily converted to vegan (dairy-free, animal product-free, gelatine-free) if requested.
Word of mouth is definitely helping the business and I now supply a local café every Friday and Saturday and the first Saturday of every month I sell them at the Lisburn Farmers Market in Castle Gardens.
When I am preparing for a market the night before I bake the cupcakes and this can take quite a long time if I have a big batch to prepare. I will frost the cakes in the morning and I have to allow plenty of time for this as I like to be creative. I will of course plan ahead what colours and flavours I am going to use. Over in Canada the cupcake trend has peaked several times but it's only now over here that they seem to becoming fashionable.
As well as the cafe and markets I also get orders from people who are having parties. I have been approaching local businesses to see if they would like to sample them and I am hoping this will lead to orders for corporate events.
I think a little bit of something you like is good for your well being. As long as you have a healthy diet 80% of the time well then there is really no harm in indulging once in a while.
When my son is in bed I spend time with my husband and then I'll probably go back into the kitchen and some more baking and go through orders.
I really enjoy doing my job and am fortunate to have such a great family support behind me while I try to establish the business.
Ulster Star
08/05/2009