Jenny Monroe talks to Francis Meaney,
art director with Venture New Generation Portraits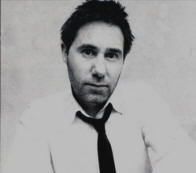 FRANCIS Meaney, 36, is an Art Director with Venture New Generation Portraits - a photographic business which has a studio in Lisburn.
He is married to Sarah and they live in Donacloney with their pet dog Parker. Francis says he has always had an interest in photography and studied it at school and then at university. When he graduated he gained a position as studio assistant with David Campbell in Lisburn before the business joined the Venture Franchise.
My week is shared out between the studios in Lisburn and Belfast and I am responsible for a team of eight photographers.
First thing after I arrive at either studio we have a fire up session which is a way of informing all the staff what happened the day before and what is expected to happen on that particular day. Were a fairly large team so it's a good way of making sure everyone knows what is going on.
After this I check the studios and make sure they are clean and tidy and that the equipment is working. Then I sit down and check what viewings are booked in for the day. I then begin working in the studio, either taking photographs myself or working alongside another photographer. We produce a unique, fun and relaxed photographic experience and deliver images and products that capture our clients' true personalities. Every Venture Tells A Story - whatever their story is, we will reveal it. The end result will be a personal work of art for the home. It really is a creative adventure which begins at our portrait photography studio.
There's always a warm and welcoming atmosphere from all of the staff and we do take great pride in this. The first thing the client will see is the Gallery area - an informal space where we display our collection of studio photography. This is where it all happens - in a bright clean studio.
I encourage the client to relax and enjoy themselves while we do all the hard work. The session usually lasts one hour and really is a fun experience for all involved. We usually ask people to bring in items which help tell their story. We have even had people bring in cows and horses which makes for an interesting shoot.
After the shoot I make an appointment for the client to come back fora viewing of the photographs in about three days. In the gap between the shoot and viewing myself and the team will be editing the images and preparing the slide show. When the client comes back we show them their photography studio experience for the first time in the viewing room — a private cinema with a large wall-projected screen.
The client will then select their images and products and in about six weeks they will receive their images. It's great to see happy people leave with cherished photos.
At the moment we are preparing to shoot a calendar for the premature baby charity TinyLife. Ths is a a lovely project to be involved with and it's great to be able to put our creative flair to work. The submission deadline is also soon approaching for the Venture Image Bank. Every year an award ceremony is held so all the studios submits their best work. We have won the creative studio award two years in a row and are hoping for a hat trick!
Once the day comes to an end I head home and usually take my dog out for a long walk before settling down for the evening with my wife. I really enjoy my job as everyday is so different. I am really passionate about photography so doing it for a living is great.
Ulster Star
11/09/2009