Jenny Monroe talks George Irwin, specialist joiner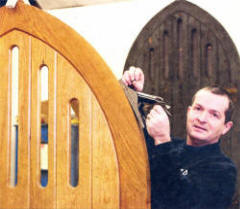 GEORGE Irwin, 48, from Lisburn has worked as a specialist joiner for 31 years and by doing so has kept alive a family tradition, since both his father and grandfather also worked in the joinery business. He is employed by the Northern Ireland Environment Agency and is based at a workshop in Moira.
After completing his joinery apprenticeship at South Eastern Regional College in Lisburn, George worked with a network of experienced craftspeople in the Northern Ireland Environment Agency historic monuments department. Here he has spent time undertaking repair and maintenance of some of Northern Ireland's most famous pre-1919 buildings, including Hillsborough Fort and Courthouse, Ballycopeland Windmill, Bellaghy Bawn and Carrickfergus Castle.
George's skills and dedication to this conservation, repair and maintenance field were recognised when he was awarded an MBE for services to the Department of Environment for Northern Ireland in 2004.
I set my alarm for 6.30am. I start the day off with a prayer and a bible reading and then make myself some lunch to take with me to work. I am at the workshop in Moira by 8am. My time is divided between the yard and working all over Northern Ireland on-site.
As well as repair work, many of my day-to-day tasks include the manufacture of specialist building components such as gothic doors, windmill sails, sash windows and gun artillery carriages. Indeed, it is the creative side of the job that I enjoy the most.
From a young age, joinery was all I wanted to do and it gives me great job satisfaction. Taking a piece of raw timber and turning it into a door for a historic building certainly gives me a lot of pride.
Much of my work involves easing sash windows and stuck doors, but when I get the chance to create something from scratch that can be quite special.
Among the characteristics needed for a successful career in specialist joinery, I would say patience and a can do' attitude are key personal attributes.
My work is normally planned well in advance but occasionally the odd job pops up that has to be attended to as soon as possible. Slates might need repaired on roofs for example. The yard foreman tells me what needs to be done and then I'll make measurements and sort out the materials required. I'll mark out the timber and use the machines to cut it, before assembling and then varnishing it. This usually takes a few days before it is put in place. We are always busy in the yard and could be working on two or three jobs at any one time.
At 4.30pm I finish for the day and head home to have dinner with my wife Jean. Every evening is quite different. I might spend time on the internet, or be out and about at Church groups. I also like to go for walks too. Most nights I am in bed by 11pm.
If you are someone who thinks, 'what's the easiest way out of this?' then specialist joinery is not for you. Having a keen interest in what you are doing and always striving to do your best will make the job much more rewarding.
I really love my job. It's very rewarding knowing that I am helping to protect our heritage. Just seeing something like a rotten window being restores is very satisfying.
Ulster Star
23/02/2009