Jenny Monroe talks to Lynsey Kirkwood of Ideal Photography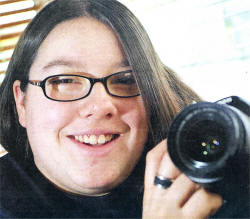 LYNSEY Kirkwood, 19, runs Ideal Photography with her business partner Nicola Ryan from their home in Lisburn. The girls met several years ago and found a common interest in music and photography. Together they spent many months leading up to opening their own business carefully designing every package to make sure that they were happy with what they were able to offer. They believe their new, young insight into photography offers their clients the opportunity to have fun, be relaxed and in return walk away with photos that capture the story of the clients which they can look back on for years to come.
I usually have a 9am start and check my computer for emails and update the website. I then do administration work until lunch time. As we are a new business we have been busy promoting and distributing leaflets trying to establish ourselves.
The overwhelming passion Nicola and I have for photography means we have no boundaries in our work, we'll travel far and wide to get new clients and to offer our service. Already we have seen requests from as far as Germany within just weeks of opening and have received positive feedback which is great.
As well as the photography work and putting the packages together we keep our website up-to-date and recently we designed an online brochure so if people are thinking of booking us they can request a brochure and see in-depth what we have to offer.
Initially people book a consultation and we go out to their home and bring a portfolio of work already covered so they see first hand what they can expect from us.
We cater for every occasion ranging from entertainment shots to weddings. Weddings are naturally a family event, and with family being at the heart of our business we take personal care of each and every wedding we do -no two weddings are the same. I think it is important to build up a good working relationship between the photographer and couple before the big day to make sure they feel comfortable with us and being in front of the camera.
Once someone expresses an interest in our services we try and book them into a consultation as soon as possible. Myself and Niki will then arrange to meet them to discuss the events of the day. They can sit and look through our portfolio of work whilst we discuss in-depth the pre-built packages we offer as well as creating their own.
We don't have a studio but instead work on location. This is often much more convenient for the client. It's all very relaxed. Once we get the go ahead for a wedding job we check out the venue and can sometimes spend half a day thinking of ideas and preparing for the event
We don't have to meet just the once, if people want we can arrange additional meetings leading up to an event such as a wedding and if the client is nervous about the camera then we can arrange a pre wedding photo session to allow them to get used to working alongside us and feel slightly more at ease. We also do a lot of portrait work and we like to make it as relaxed and fun as possible.
The turn around from the photos being taken and us editing them in our computer suite is quick. We edit all the photos we have taken to make sure we get the best potential, presentable and high standard for the customer to choose from.
I feel lucky that we have been able to turn our passion into a career.
Ulster Star
15/05/2009