Jenny Monroe talks to Nuala Mcllroy of Anorak Creatives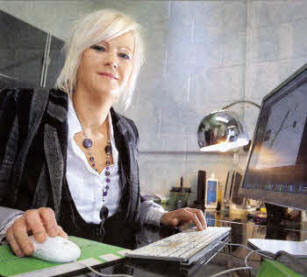 NUALA McILROY, 32, from Lisburn runs Anorak Creatives with her business partner Natalie Johnston. Nuala has extensive experience designing for print and has worked with small to medium sized clients from both public and private sectors throughout her career. She injects vibrant creativity into the functionality in her designs, balancing this with meeting clients' needs and satisfaction. Anorak Creatives is a young, forward-thinking design studio, providing new and established businesses from the public and private sectors with fresh, innovative and bespoke design solutions that meet each individual client's needs. From corporate identity to web development, brochures to flyers, signage to exhibition graphics to advertising and promotional material.
I get up at around 8am each morning. The studio, which is based at Lisburn Enterprise Centre, is open 9arn to 5pm Monday to Thursday and 9am till I pm on a Friday.
The first thing I do when arriving into work is have a cappuccino and biscuit to start the day off, then its time to trawl through all the emails we receive and try and find the important ones which is a mission on it own sometimes as, like a lot of people, we get bombarded with Spam.
I make a point of replying to all client emails first as I feel it is extremely important to get back to people as there is nothing more unprofessional than not getting a reply to a email for days.
Myself and Nat then have a meeting to discuss our daily job list and see where we both are at and what we both plan to work on that day. I also check with Nat for all outstanding invoices as I have the lovely task off chasing these up. As business and design partners, myself and Natalie fuse extremely well together. The long educational and professional history we share is an asset in the services Anorak Creatives provides to its clients.
We are a confident and outgoing agency that consistently fulfils and exceeds our clients' needs and desires. Our creative and, 'outside-the-box' thinking, balanced with tight project management and attention to detail, enables us to consistently produce the right solution for our clients.
The bulk of my time is spent designing as its what I love to do which is probably bad as the business tasks tends to be put on the back burner sometimes as they aren't as much fun as designing. I have meetings with new and existing clients in the studio or sometimes I travel to their place of work for a design meeting.
I have just completed the new brand for McIlroy s Chippy in Crumlin which my brother owns, this was a great success. I designed the logo, signage, window graphics and am currently working on their website which will include the menu and history of the shop. I think everyone nowadays benefits well from having some type of web presence as such a vast amount of people will search the web for contact details at the very least before they will pick up say a Yellow Pages or Phone book,
When I'm not at work I tend to be at the gym most week nights, and socialising with friends most weekends. I am well travelled and have visited most of Europe, Australia, America and South East Asia. I have a love for photography and have lots of amazing photos of the places I have toured. I also enjoy sports and my have two lovely cute little Yorkies to come home to.
Ulster Star
30/10/2009