Jenny Monroe talks to top makeup artist Oonagh Boman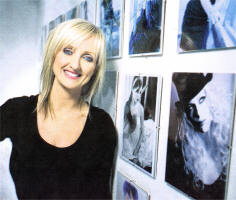 OONAGH Boman, 41, is a top makeup artist from Lisburn. She moved to the bright lights of London when she was 19, working within the film and music industry.
But beauty was her first love, so she followed her instincts. Studying at two of the most highly reputed and respected make-up and beauty schools in London and Dublin, she trained as a professional make-up artist and gained certificates in CIDESCO, CIBTAC and ITEC.
Oonagh now enjoys a varied career within the fashion and beauty industry, which has taken her from Dallas to Dublin. She is one of the most sought after make-up artists in Ireland, with a host of magazine covers, TV appearances, major advertising campaigns and fashion showcases to her credit. Oonagh also writes regular beauty/make-up articles for fashion magazines and newspapers.
Ireland's first school of make-up was opened in Belfast by Oonagh in 1998, it's success is renowned within the beauty and fashion industry
I get up about 6.30am and get myself ready before I wake my two children, Skye, 10 and Brad, 6. Mondays and Wednesdays are my designated training days at my School of Make-Up in Belfast. The school offers comprehensive courses in Fashion and Photographic Make-Up and Advanced Make-Up Techniques. Past students and graduates now work within the beauty/fashion/retail sector. Many have opened their own businesses and some have been working abroad. The school has an excellent reputation and graduates are much sought after. I will prepare for the classes by getting visual aids, DVD's and products ready. The classes consist of training demos and tutorials and in the afternoon we makeup the look we have studying. I take my work very seriously and the classes can be very intense but the students always leave the classes buzzing as it is such good fun.
If I'm not teaching the students in the classroom I could be out with some of them at a fashion shoot for their portfolio. This is always a frantic time and I might be working from 8am right through until 7pm.
Another typical day is me working on set. I'll be on location early in the morning and will have already been well briefed about the looks the client wants. There sometimes is as many as 15 changes of hair and make-up for both kids and adults so it can be a very long day. As well as this I do make-up for wedding magazine the Ulster Bride. I am truly passionate about the wedding make up aspect of my work and I am also responsible for writing the beauty articles, doing make-up for the front covers and the editorial shoots for this highly respected magazine. I am busy developing my own makeup range and I'm trying to get this online very soon. As I have so much to focus on at the minute I have had to cut down on doing make-up for brides but when I get the chance to do it I just love it.
Sometimes I might be involved with fashion shows as chief make-up artist and this is always hectic but always a great buzz.
It's a really positive industry to work in which is good and gives me instant gratification. The assignments are not all glamour and showbiz but they are always a rewarding challenge.
I like to spend time with my fiancé and children in the evenings. There's nothing better than a cuddle. I do try to take Thursdays and Fridays off. It is very important for me to balance my working and family life.
Ulster Star
09/01/2009