Jenny Monroe talks to Paul Stephenson of the NSPCC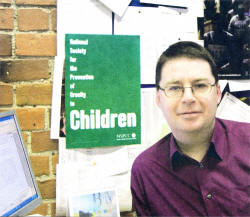 Paul Stephenson, 41, lives in Lisburn with his wife Phyllis and their three children. Paul has worked for the NSPCC for over seven years as a Child Protection in Sport officer. In his post Paul's primary role is working with sports governing bodies to promote good practice in their work with children.
I wake up at 7.30am and help the older children get organised for school. Then I head to my office in north Belfast. I enjoy going into the office in the morning and working for an organisation whose aim is ending cruelty to children. I strongly believe that safeguarding children is everyone's responsibility, so my job is to provide sports organisations with advice on the development of safeguarding policies and procedures.
My primary role is working with sports governing bodies to promote good practice in their work with children. I also meet with a number of local councils to advise on their safeguarding policies as well as training staff on implementing these and responding to direct inquiries from clubs or parents.
The NSPCC Child Protection in Sport Unit believes that sport plays an important and positive role in the lives of many children and young people. As well as the obvious health benefits, children can gain important social and life skills through involvement in sport. That's why it's important that everyone involved in providing sport does as much as possible to create and maintain positive and safe sporting opportunities.
Sadly in the UK there have been a significant number of cases where those in positions of responsibility have breached the trust young people, parents and clubs have placed in them.
The majority of coaches do a great job, most as volunteers, and do not cross that line. However coaches and others in positions of authority are not bystanders in relation to safeguarding children and it is the responsibility of all involved in sport to act if they have a concern about the welfare of a child or young person.
Within the CPSU I am responsible for co-ordinating our newsletter 'Relay' which is published four times a year and goes out to anyone involved in sport who has subscribed to our mailing list. Anyone who would like to receive a copy can subscribe by visiting our website Safeguarding children in sport | Child Protection in Sport Unit homepage or by emailing cpsu@nspcc.org.uk. I also spend time in the day maintaining the unit's web site.
I enjoy the variety in my work and the opportunity I have to work with so many volunteers Who are clearly committed to sport and ensuring that young people have fun while participating safely.
When my day at the office is finished I arrive home as most of the homework is being finished. We all have dinner together and at about 8pm the children go to bed.
Some evenings or weekends I might have to attend meetings or presentations but if I do have any spare time I enjoy playing squash at my local racquets club or helping out at Lisburn Special Olympics football club. I relax at home before going to bed around 11.30pm.
Adults concerned about the welfare of children or young people should contact the NSPCC helpline by calling 0808 800 5000 or by emailing help@nspcc.org.uk. Children and young people who need to talk should contact ChildLine, the UK's free, 24-hour confidential helpline on 0800 1111.
Ulster Star
13/02/2009