Jenny Monroe talks to Pauline Warde of PW Design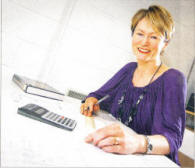 PAULINE Warde is a chartered consulting Engineer and recently opened an office at Lisburn Enterprise Centre trading as PW Design. As a school girl she had a great passion for maths and physics and, following a science course where she saw civil engineers at work, she knew she wanted to get into the profession. The Queen's University graduate set up her own business in 2006 after working for various well known companies and making lots of contacts in the construction industry. The .economy was booming and Pauline knew it was a good time to branch out on her own. She originally set up an office at her home in Lisburn where she lives with her husband and 6-year-old son.
1 head to the office for 9am and check emails and work on structural calculations for current projects. I provide a structural engineering design service.
People often mix my role up with that of an architect. It is my job to make sure the elements of a building are of sufficient size to withstand the loads applied to them. I do this with mathematical equations and use calculations to assess stresses in structural elements and ensure that they are within acceptable limits. In simple terms I ensure the building doesn't fall down.
I translate the calculations into drawings or sketches for the contractors who use them on site. Two to three days a week I am out on site carrying out structural surveys. Prospective house buyers looking to secure mortgages are often told by surveyors to get in touch with someone like me to write up a report for them. Insurance companies investigating claims such as fire damage and foundations subsiding also use me too. A TV production company even employed me to assess the structural safety of buildings they were using on location. When I'm in the office I might be answering queries and marking jobs in the diary for me to go and assess. Once I have been out on site, I'll come back and write up my report or put together sketches.
I am a sole trader and I think my clients appreciate the single point of contact. I am there for the initial visit right through the developing and working out the design to the final stages. I've never done one job that is the same as another and every day I learn something different.
Recently I've been getting queries from people interested in making alterations to their homes. They might want to extend, convert or make their rooms open planned. Again I'll go out and have a look, develop a design and work out what structural support is required. More and more new houses need structural design input due to their sheer scale and the extensive use of glazing. With email nowadays I can receive architect's drawings online which means I can work on projects anywhere in the world as long as I don't need a site visit. This is the beauty of what I do.
At 5pm I finish up and head home. Working for myself I tend to do a few more hours in the evening but it's great that I can work my career around me.
I'll have dinner with my husband and son and spend some time together doing the normal family things. I really appreciate being my own boss and I do get a lot of satisfaction from making my own decisions. After 20 years in the industry I still enjoy what I do. One big kick I get is driving around with my son and telling him "mummy built that building". I always enjoyed maths and science at school and when I was at a course and found out more about structural engineering, I knew it was the perfect job for me and I was right.
Ulster Star
05/06/2009