Jenny Monroe talks to Rebecca Leonard,
assistant director and choreographer of Fusion Theatre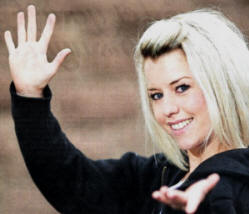 REBECCA Leonard, 27, from Lisburn, is Assistant Director and choreographer or Fusion Theatre - a cross community drama group based in the local area. From humble beginnings, the Youth Drama Group is now thriving, helping around 70 young people aged between 7 and 18 years of age to discover their creative abilities. They hold performances twice a year and are looking forward to Titanic The Musical which will be in the Island Hall from Wednesday 9th - Saturday 12th September.
Rebecca initially attended ballet lessons as a child but has studied a range of dance styles over the years. After completing a degree in consumer studies and a postgraduate degree in Education she went to London where she trained as a dance teacher while performing professionally outside her studies. The talented dancer, who entered BBC's 'Strictly Dance Fever', where she reached the final six out of 80,000, has now also set up her own Hip Hop and Jazz dance classes her home town.
Some days I work as a sub-teacher at school; teaching home economics, dance and dram,, so this will mean I have an early start. On the days that I'm not teaching I am at home researching music and seeing what is popular for different age groups.
I do most of my work with Fusion in the evenings when we meet up for a couple of hours. I work with the Director Ian Milford with about 90 young people. Over the year we will be rehearsing and preparing for shows and I am responsible for all the dance and movement. With the latest show 'Titanic' taking to the stage soon I've been busy rehearsing with the cast and making sure all the dance movements are polished.
Between teaching, rehearing and performing, I have a very busy schedule. I work to timetables and am always planning ahead. I choose music, develop dance routines and note everything down so I know what is happening. As well as gearing up for the show, at the moment I am busy preparing flyers and sorting out advertisement for my dance classes which will be held in both Newcastle and Lisburn.
When Fusion decide upon a show to perform we introduce the members of the drama group to the songs by way of making them familiar with it. Then we have to hold auditions and draw up a cast list. It's a bit like the X Factor.
Once this has been done we start to rehearse each week. I break up the scenes and we do the dance moves step by step, practice the routine and then gradually add on more steps. This process is repeated until the routine is complete. When everyone has mastered the steps it's a matter of tidying it all up to make it look as professional as possible. A few days before a show begins we start rehearsing in the theatre with the set in place. I check everyone knows their positions.
We are very fortunate to have such a great team supporting us at Fusion.
In my professional capacity as a dancer I will be Dance Captain in the Pantomime at the Waterfront Hall with a selection of other local actors and performers.
I am also one of the 'groovy train' dancers at the M Club on a Friday evening. I think it is important to continue to perform as it keeps me in tune with local entertainment and up to date with fresh choreography and teaching ideas. I can't wait for my dance classes to begin in the St Patricks Parish Centre in Lisburn and would love all budding dancers to get in touch.
Ulster Star
04/09/2009