Jenny Monroe talks to Julie Mulholland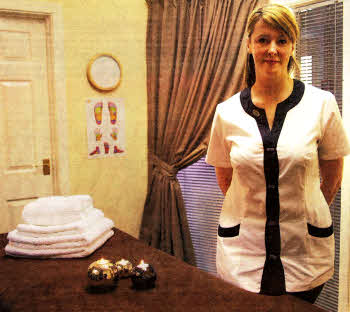 JULIE Mulholland is the owner of Urban Serenity, a Massage Therapy Clinic based in Antrim Street. A few years ago the Lisburn mother of one was reading an article about reflexology and its benefits and she thought it was something that could help her autistic son Thomas who is now 21. She then proceeded to enroll on a reflexology course and used her son as her first case study. Julie was amazed with the results and could see how much her son was benefitting and that is when she decided that she wanted to learn more so she could help other people. Over the next three years Julie studied aromatherapy and other specialised treatments. During this time she dreamt of running her own clinic and making her son proud of her. This dream soon became a reality when Julie started her new business last month.
Julie has gained extensive knowledge and experience in the field of massage therapy, having studied with Gateway and also with Ruth Johnston at the Academy of Complementary Therapies in Lisburn.
I get up at 6:30am and the first thing I do is take some time to express my gratitude for everything that's good in my life. This gets me off to a positive start. I am in the clinic shortly before 9am. I will double check my diary so I know exactly what clients are booked in. I'll then check my voicemail, return any calls from people who are interested in the treatments I offer and then I'll make sure the clinic is ready for the first client.
Upon arrival the client will be greeted by myself and made to feel welcome. They can relax for a few minutes in the client waiting room and have a refreshing hot or cold beverage. People may be feeling a little apprehensive if it is their first visit so everything at the clinic is designed to help put them at ease the moment they walk through the door. Before their massage I will go through a short and informal consultation with them so that the best treatment for their needs/wants can be ascertained. They will then be shown into the treatment room where they can undress and get onto the couch in complete privacy. I will knock the door before entering the room and then the treatment will commence. Upon completion the client will be left to dress in privacy. I will then offer them some homecare advice and a second treatment can be booked.
The aim of the clinic is to provide the client with five star customer service and excellent value for money to ensure their experience is a memorable one. The clinic has an ambience of peacefulness.
People are very interested in natural treatments and I get a lot of inquiries. I like to spend time talking to prospective clients letting them know what I offer here. Some treatments last an hour and a half while others last just half an hour. I work round my clients and will take a break when there is a gap in the diary. When there is quiet spell I also like to work on the general running of the business, devising promotional and marketing ideas. I do run late night treatments so what time I get home depends on when the last booking is.
I love my job so much - in fact it really doesn't feel like work because I enjoy it. I am very proud of myself as a lot of people thought I shouldn't open a business in a recession but my determination and hard work has paid off. Definitely believe in yourself and listen to your own heart - I did and I can say I am very pleased. It is very satisfying knowing that I can be of some value to peopIe's lives.
Ulster Star
25/06/2010