Jenny Monroe talks to Peter Morris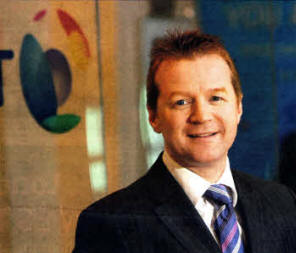 PETER Morris, 47, is Director of Consumer and Corporate Services for BT. Peter is heavily involved with the Lisburn area with it being one of 69 exchange areas that will be upgraded this summer with fiber-based access services as part of BT's £2.5bn investment programme, making faster broadband services available to close to 14,000 homes and businesses.
He has been with the company for 11 years. Prior to that he worked locally for Coca Cola Bottlers (Ulster) and then for Mace (J84 Haslett). For the first two years in BT he was responsible for all marketing into the SME sector before moving on to become Head of Business Marketing. In 2003 Peter became Head of Sales for the SME sector playing a pivotal role in the growth of BT's customer base. In 2004 Peter was seconded from his role to both formulate and lead the company's strategy against the growing competitive threat and has played a key role in setting the direction for the company in this business critical area.
Peter, a keen sports enthusiast, is married to Cathy and they have two children Matthew and Leah.
I have a 6.30am start in the morning and go to my office in Belfast at Riverside Towers for 7.30am. My job is very diverse and vibrant. Most days I have back to back meetings. I usually have my first set at Barn but before this I'll catch up on emails. During the meetings I will be receiving quick updates from the sales managers and I could be reviewing our marketing campaigns. Focusing on business performance on a daily basis is very important and I make sure I get to spend time with my own team of about 6-7 managers to review their business units. I also make decisions with fellow directors and am in regular contact with colleagues in Great Britain. There is a strong learning culture within BT and we regularly share ideas.
It is a very exciting time with our investment programme making fast broadband accessible in different areas including Lisburn. The acceleration of BT's investment programme will make superfast services available to up to 14,000 homes and businesses in the Lisburn area this summer. A world class network infrastructure brings immense opportunities and benefits — helping to enrich the lives of consumers and communities, giving our businesses a competitive edge as well as supporting the public sector's Programme for Government — would it be possible to remove the highlighted piece as it refers to wholesale? The faster download speeds will give customers more than enough speed to run multiple bandwidth-hungry applications at the same time.
This new technology will allow small businesses in the Lisburn area to access affordable super fast broadband speeds currently being used by very large companies.
BT Vision, the on-demand digital TV service, is another area where we are very focused on at the moment. Entertainment in general is where the market is going. There are major changes happening and we want to be part of it. Our business is extremely competitive. There has been a huge change in the industry and it is important that we are on top of it and react in response to the market and customer needs. I regularly sit in and listen to customer panels. The feedback is important and I can reflect it in our plans.
I head home around 6.30pm/7pm and usually spend half an hour in the evening going through emails. The company offers me a challenging and diverse environment and everyday I face something new.
Ulster Star
21/05/2010