Zara Beggs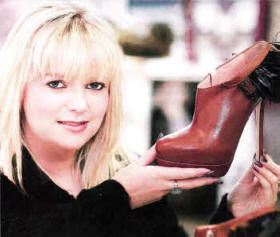 ZARA Beggs co-owns designer ladies boutique Candy Plum with her mother Lynne. This award winning boutique is nestled in the heart of Hillsborough. Candy Plum is bursting at the seams with an array of fabulous brands from across the globe, many of which are exclusive to the store throughout the North and also South of Ireland.
The shop celebrated its first birthday in October and is going from strength to strength. Like mother like daughter, both Lynne and Zara have a serious passion for fashion. As well as running the fashion business Zara is studying for a marketing degree and is currently on placement.
A typical day for me at the store starts at loam. The window display is extremely important and a lot of thought goes into it as this is what catches peoples attention. We chose a boudoir theme and we were very lucky to get a lot of unique pieces of furniture from VSL in Lisburn. The theme makes the shop stand out and adds an extra touch of glamour. I like to make sure the deliveries are sorted out when it is quiet and this will entail garments being steamed, priced and being logged onto the computer system before being displayed. I also regularly update out Twitter and facebook sites so our followers know what is new in. This has proved very popular. We are currently working on developing our exclusive online boutique. I am very excited about this.
We get orders from people who have been in Northern Ireland on holiday and like our ranges so much that they will get in touch to place orders when they are back home. One lady from Canada recently placed an order as she loved the clothes.
We do most of the buying in London and occasionally in Dublin. Clothes shows are huge and it is very important that we attend so we know that we are on top of trends. February and August are the two months in the year when we would beat the clothes shows choosing clothes for the store. I am going to Paris and New York in February and can't wait to see the fabulous collections on offer. We will make appointments with the fashion agents and fly over to view the collections. We are constantly on the look out for up and coming new brands to showcase to all of our fabulous fashionistas. We have to make sure all the clothes go together - it's called putting together a story.
We have to consider colour blocks, matches, separates and mixer. We make notes and often when we are selecting clothes we have some of our best customers in mind. We think of the styles our customers will like. We do like to choose items which are unique and different and try to get labels that very few stores stock locally. This means I am constantly researching online and following celebrity trends to see what would be good for Candy Plum.
We don't tend to get a lot of particular style so this means that our customers don't run the risk of seeing somebody else wearing the same outfit.
We regularly update out customer database and do make notes of their size and styles they like. This is handy if their husband or someone they know comes in to buy them a gift. Supplying clothes for fashion shows and organising them is something else that we are involved with. It does take a lot of work and effort if we are staging events ourselves but so far they have all gone very smoothly and received excellent feedback.
It's been a great first year in business especially with us winning an award for most stylish fashion outlet only after three months of being open. I couldn't be happier and it is a pleasure to run the business with my mum and the team.
Ulster Star
17/12/2010