Beverley Whyte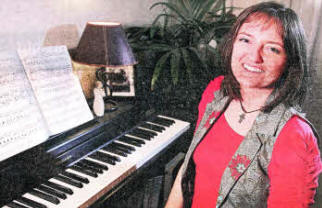 BEVERLEY Whyte from Lisburn is Music Director for The Open Arts Community Choir (OACC) an award winning, dynamic, inclusive choir which demonstrates how people from different cultural backgrounds, with and without disabilities come together through the medium of song to be positive ambassadors for Northern Ireland. Having reached the final stages of the BBC's Last Choir Standing in 2008, they are dedicated to providing high quality performances across a variety of musical genres throughout the UK and Ireland. The Choir is celebrating its 10th Anniversary in style this month with a Gala Ball.
Beverley has a first class Bachelor of Music degree and a Masters in 20th Century Music from Queens University. After her studies she taught the flute in various schools whilst touring much of Europe with the Brian Irvine Ensemble. She is now Music Director of Open Arts, a post which has taken her to many parts of the world, including Sweden and Indonesia.
The Open Arts office is in the Crescent Arts Centre in Belfast but I am usually out and about teaching and performing all f over the country so I don't have a typical day as such, which is great. The Open Arts organisation is a limited company'' with charitable status and currently employs three people including myself. Two people help in the office in a part-time capacity and we have a committee of ten people who direct operations. Self-employed community arts facilitators in dance, drama, visual art and creative writing are also used as required. Since the choir's TV stardom in 2008 we have been consistently busy with gigs and festivals, so this l takes up most of my time — and the administration work is phenomenal, particularly at the moment with our plans to tour America in the summer. It is my job to book in gigs, do site visits to check for disabled access, and sort out all the travel and accommodation arrangements. I also do some song arranging, and record parts onto practice CDs, as well as printing out lyrics in large print or Braille for our visually impaired singers. Basically I take care of all the logistics. It is also up to me to promote what Open Arts is about which is valuing creativity, furthering artistic excellence and promoting the rights and employment of disabled people within the arts and cultural sector.
As well as directing the Choir I also tutor the Open Arts Gamelan, a magnificent orchestra of percussion instruments from Indonesia, all beautifully carved and embellished with gold. Since it arrived from Java in 1995, our Gamelan has travelled all over Ireland working with community groups of all ages and abilities. It currently resides in Stranmillis University College where it is being played by various community and school groups. You don't need any musical experience to play it, so it's the perfect tool for bringing people of all musical abilities together — and it's great fun too.
I am busy every day and sometimes don't get finished until quite late, but I really don't mind as I love what I do. It is the best job in the world; I get to travel a lot and meet new and interesting people on a daily basis. I get a buzz from seeing the OACC progress and win choral festivals and competitions all over the country - the quality of music they're producing right now is amazing and I am proud to be a part of that. People sometimes have preconceived ideas about inclusive choirs like ours, but then when they hear us their notions are challenged; they are usually quite shocked, and I love that.
The choir meets every Monday night from 7.15-9.15pm in Belfast. The first Monday in the month is usually 'Big Choir Night' which is open to anyone aged sixteen or over with a love of singing. For more information about the OACC or the Open Arts Gamelan contact Beverley on bevopenarts@aol.com
Ulster Star
11/03/2011