Pamela Green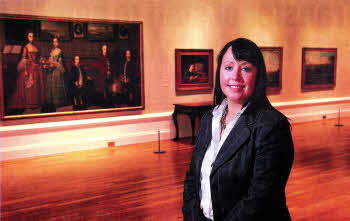 PAMELA Green, who lives in Lisburn, has a degree in psychology and a Masters degree in occupational psychology. She previously worked for an advertising firm as a psychology director and has also worked for the Northern Ireland Tourist Board. She has been in her current job since 2008. The National Museums Northern Ireland cares for and presents inspirational collections that reflect the creativity, innovation, history, culture and people of Northern Ireland across four sites, including the Ulster Museum, Ulster Folk &Transport Museum, Ulster American Folk Park and Armagh County Museum.
I'm based at the Ulster Folk & Transport Museum in Cultra and I like to get in ahead of the busy traffic, which means I leave Lisburn early and am at my desk before 8am.
Normally I start my day by checking emails and review all the tasks I have for that day. Each morning I find out how many people have visited the website for each museum, to keep us informed about the level of activity on these sites. I also compile visitor numbers every day and on a monthly basis I write up a report. It's great to see so many people coming to the museums and over 700,000 have visited the Ulster Museum since its reopening.
My favourite aspect of this job is that it is so varied and I work with colleagues in all areas of the museums. I attend meetings with departments including learning and partnerships, collections and interpretations, and the Executive team. I also work alongside the PR, consumer marketing, business and tourism, and commerce and trading sectors, to develop marketing plans.
Although I'm based at the Folk Museum I sometimes work at the other sites, which is fantastic as I get to see the developments across all four museums.
A key part of my job is co-ordinating research programmes and conducting exit surveys, to inform the development of the museum programmes. I often organise focus groups to determine the thoughts and opinions of people who use the facilities and visit the unique attractions. These sessions are held regularly in the evenings and contribute to post project evaluations, as they show us how and where we can enhance the experience for visitors.
I really enjoy conducting the exit surveys as I have the opportunity to interact with a wide range of people and discover what they enjoyed about their visit. We get a great re- sponse from visitors and it continues to in- form projects like our outreach programme, which brings the museum's collections into the community, in order to reach new audiences.
I'm also responsible for preparing presentations for a variety of seminars and most recently worked on one for the geological curator's group seminars. Creating these presentations gives me a great insight into the museum's collections.
It has been exceptionally busy this year following the re-opening of the Ulster Museum in October 2009. We are all very happy with the work that has been carried out. There's a really great team in place and we are thrilled with the awards received for the museum's reopening.
When the Ulster Museum won the UK Art Fund prize this was a huge achievement and something the whole team was extremely proud of. The marketing department also recently won an excellence award which is great recognition for the team.
I enjoy my job and getting positive feedback about the attractions is very rewarding. It is lovely to know that people find the museums exciting, stimulating and innovative.
Ulster Star
14/01/2010