Wendy McDowell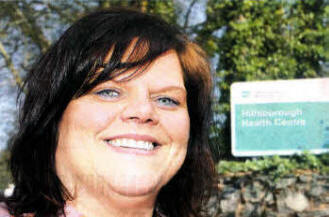 Wendy McDowell is a Community Health Development Worker for the South Eastern Health and Social Care Trust and is based at Hillsborough Health Centre. She lives with her husband Mehmet in Dromore, but was brought up on a family farm outside Rathfriland.
She has worked for the Trust since 1992 when she started off in administration and later moved into health promotion. At the same time she decided to study for an Advanced Diploma in Health Promotion and then when the opportunity presented itself she applied for her current job which she has had for over seven years.
I work as part of the Health Development Team, supporting communities throughout Rural Lisburn to work towards improving their health and wellbeing. I engage with key people in communities, community groups, church groups etc who for example may experience particular disadvantages.
Typically first thing in the morning I could be meeting a community group or attending a team meeting at our headquarters in Lisburn Health Centre. In the afternoon I could then be delivering a health programme with a group or discussing how to develop an activities programme for an older peoples group, before returning to the office to get caught up with telephone calls and emails.
My job does require me to be flexible as there is a lot of evening work involved where I may be attending meetings, delivering health programmes or health talks.
If I am working in a new area I have a meeting with the community representatives and together we identify the health needs, usually by completing a health survey of this area. My job includes delivering a range of programmes such as nutrition, physical activity, mental health, parenting in a range of settings from schools to churches, to youth groups, working across the lifespan from young to old, addressing numerous health issues that have been identified.
People living in a rural community may feel isolated, so another part of my job is trying to get people more engaged in their local communities, such as joining a walking group or older peoples group. Often these small steps help to make people feel valued in their community The approach I use is to work collaboratively across all sectors with agencies such as Lisburn City Council, SEELB Youth Service, PSNI and TADA to help make this happen.
I have also responsibility for co-ordinating the South Eastern Trust's 'Walking For Health' programme which is celebrating its 10th anniversary this year. I train individuals to lead health walks in their local communities and offer ongoing support to trained Volunteer Walk Leaders.
This gives me an opportunity to meet with many interesting, committed and motivated people who wish to not only improve their own health and wellbeing, but that of others participating in the groups. Recently I organised a successful networking event in Lisburn for the Volunteer Walk Leaders to thank them for all their hard work over the past year.
I was absolutely delighted with the response of 82 attending, enjoying a healthy walk and delicious lunch.
There is certainly never a dull moment as every day differs in this job. When I read evaluations from various programmes that I have delivered, and realise that I have helped to make a difference in someone's life, that's what makes me happy - I have an amazing job and totally believe that the community health development work that myself and colleagues working in other areas do, impacts positively on the health and wellbeing of the communities we champion.
At weekends I love spending time with my husband, where we often visit my parents at the farm and enjoy the lovely surroundings, and of course like most ladies hit the shops for some retail therapy.
Ulster Star
06/05/2011