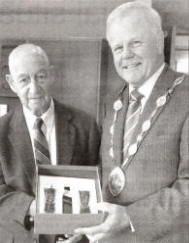 Lisburn Mayor Trevor Lunn presents Hedley Downton Ex RAF, Citizen of Newfoundland with a drinks set at a reception in the Mayor's Parlour on Thursday August 10. US33-104A0 Picture By: Aidan O'Reilly
LISBURN welcomed a very special visitor to the city last week when the Mayor, Councillor Trevor Lunn, held a reception for war veteran Hedley Downton.
88-year-old Hedley, known to his friends and family as 'Blinkers', although no-one can quite remember where the nickname comes from, paid a visit to the city to see his extended family.
A native of Grand Falls in Newfoundland, 'Blinkers' travelled to Britain in 1938 as the world teetered on the brink of war.
He was so determined to join the war effort that he endured an 11-day journey on a boat from Grand Falls to London; quite a difference to the recent five-hour flight he made across the Atlantic.
With a choice of joining the Royal Canadian Air Force, the US Air force or the Royal Air Force, he decided to make his career in the RAF.
During the war he served in Aldergrove and it was while stationed there that he met his wife, local girl Bernie.
He was also stationed in various posts in England, Gibraltar and Freetown, South Africa.
On his return home after the war he was a volunteer fire-fighter for 25 years, as well as holding down his day job in the paper mill around which the town of Grand Falls was built.
On August 28, 1963 Hedley stood in the eighth row in front of the Lincoln Memorial in Washington DC as Martin Luther King delivered his historic speech 'I have a dream'.
At just five foot tall, Hedley may not have been seen by television viewers at the time, but he was there and has the home movies to prove it.
As a lifetime member of the Royal Canadian Legion, he is Central Area Director of 125 Newfoundland Night Fighter Squadron and he visits local Legions on his return visits to Northern Ireland, accompanied by his son Kieran.
Whilst in Lisburn, Hedley was presented with a gift of crystal by the Mayor, during his visit to the Civic Centre; something he says will go with him to the grave.
Hedley returns home at the end of August and feels that this may be his last visit to meet his extended family in Lisburn and Belfast. However, his family are hopeful that he will return again.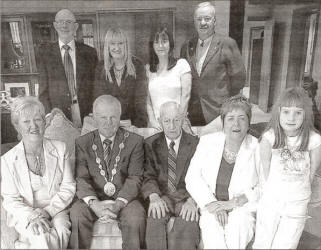 Ex RAF Hedley Downton, Citizen of Newfoundland & family at a reception in the Mayor's Parlour on Thursday August 10 with Lisburn Mayor Trevor Lunn. US33-103A0