THREE local service people who were on a Royal Navy ship heading home from Spain have instead been involved in the operation to get evacuees out of the war torn country of Lebanon.
Dentist, Lieutenant Commander Stuart Stephenson from Hillsborough, his dental assistant Janice Herne from Lisburn and Royal Irish Warrant Officer Ken Mack from Lisburn are currently on board HMS Bulwark, which ferried 1,300 UK citizens from Lebanon to Cyprus to escape the turmoil in the region.
Speaking from onboard the ship, WO2 Mack explained: "HMS Bulwark is affiliated to Royal Irish and we take part in exchange visits.
"We joined the ship in Barcelona on July 13. It had been at sea for seven months and the crew were on the last leg of the voyage home.
"But we were only three hours out from Barcelona when we were ordered to move to Lebanon to take part in the evacuation process.
"The crew were looking forward to getting home and seeing their families but after the initial disappointment everyone got into gear and got the ship prepared for the evacuation of 1,300 UK citizens.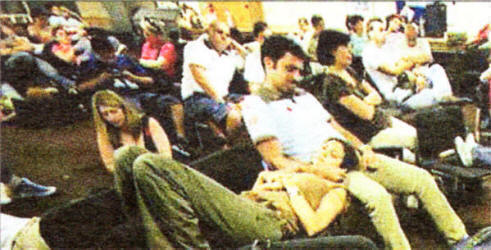 "From the soldiers' point of view we integrated into the ship's crew and our guys have been fulfilling a very useful role." Conditions on board HMS Bulwark were cramped, but as WO2 Mack explained, the evacuees were just delighted to be on board for the 12 hour journey to Cyprus.
"They had an ordeal just getting to the ship" he said. "They were told to bring 20 kilos of hand baggage and had to leave the rest of their belongings behind.
"But they were very glad to see us and the relief on their faces as they were heading for Cyprus was very apparent.
"Once we got to Cyprus we dropped them off and we are now waiting for further instructions."
Despite the cramped conditions and the disappointment at not getting home to see their families, the soldiers were glad to have been of assistance.
"As Royal Irish soldiers we were fortunate enough to be in the right place at the right time to make a difference and we are very proud to be working alongside the Royal Navy," added WO2 Mack.
Lieutenant Commander Stephenson, who hails from Hillsborough, said the Royal Navy were only too happy to help.
"We had 48 hours when it just didn't stop," he explained. "At times it was like being in a sardine tin. We had people lying in corridors, every available room was used; we didn't even have space to walk around in some parts of the ship.
"We had about six people staying in my surgery, one in the dental chair and the others on the floor."
Despite the cramped conditions, the ship's crew did everything they could to make the evacuees as comfortable as possible.
"It was cramped but just for a very short time," explained Janice Herne, who is originally from Knockmore. "The ship's crew get on with it and made people as relaxed and comfortable as possible."
The evacuees who were on the ship were evidently grateful for the help they received. "We have a magnetic light board in the surgery," explained Janice. "People left a magnetic heart and thank you messages for us. The children also wrote letters of thanks. People were very grateful.
"While we knew we were doing a worthwhile job, it makes it even more special when the people you help are so grateful," she added.