Mary Magee reports
I can't believe I got out' says crash survivor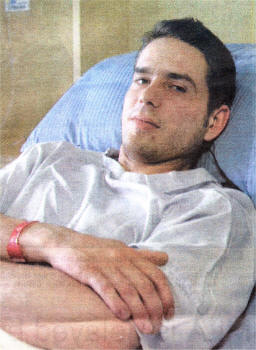 Ashley Harrow recovers in hospital survivor Ashley Harrow.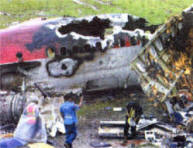 A MOIRA man who managed to open an emergency door and escape from a plane crash in Thailand which claimed 90 lives says it is a miracle he was not killed or seriously injured.
Ashley Harrow is expected to remain in hospital for a week after suffering a compressed fracture to the spine, described as a whiplash type injury.
But speaking from his hospital bed in Phuket, he said: After I got out and looked back I couldn't believe I was on that plane and actually got out if it."
Two other men from Londonderry were also on board. Aaron Toland, 22, died in the crash. His friend Christopher Cooley is being treated in hospital.
Ashley, 27, told reporters he was seated near to the emergency exit when the One Two One budget airline flight from Bangkok to Phunket got into difficulty as it tried to land in a heavy rainstorm and crashed off the runway.
He described how he and another passenger, Peter James Hill, 35, from Manchester struggled to escape from an emergency exit. "I took my seatbelt off, looked across and saw Peter trying to open the door," he said. "I grabbed the top lever and gave it a really hard pull and it just half opened.
"Peter got out and I gave it another good tug and that was it, the door came out. I jumped out onto the wing and away from the plane. "I just couldn't take what was happening in. After I got out and looked back, I couldn't believe I was on that plane and actually got out of it.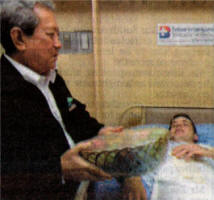 Thai Prime Minister Surayud Chulanont comforts plane crash Ashley Harrow.
"The front end of the plane was just a giant fire ball.
"I could hardly run across the runway, my back was so sore."
Ashley had been away from home for a week and was on his way to a full moon party when the crash occurred.
Thai Prime Minister Surayad Chulanont visited him in hospital on Monday.
Speaking from her home in Moira, Ashley's mother said she was just hoping her son, who had originally planned to travel with a friend, would make a speedy recovery.
She said: "He is recovering very well, and we appreciate everyone's concern. He is fine, thank goodness."
Neighbours of the Moira man said they were shocked when they heard the news.
"He is certainly very lucky to be alive," one said. "It could have been very different. There were so many who lost their lives on that flight. I just hope he is all right."
Another neighbour said her thoughts and prayers were with the family at such a difficult time.