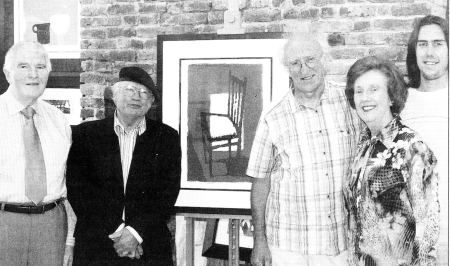 Stanley Bell (Vice Chair), Graham Catney (Chairman), Neil Shawcross (Artist), Winifred Bell (Committee Member) & Andy Lyttle (Castle Gallery Proprietor)
LISBURN Historic Quarter Arts Group is hosting an evening with Neil Shawcross on Wednesday September 12 to celebrate the acclaimed Ulster artist's generous contribution to the arts in Lisburn.
Neil Shawcross has donated a personally signed, limited edition run of 50 original screen prints.
He is particularly admired for his style of portraits, which are often termed ingenuous and candid, and it is this style that has made his work so distinctive.
Major commissions of Shawcross' include portraits of fellow artist Colin Middleton, novelist Frances Stuart (now in the Ulster Museum), and Alderman David Cook for the Lord Mayor's Gallery at the Belfast City Hall. He has exhibited extensively with shows in London, Manchester, Dublin, and Belfast.
Lisburn Historic Quarter Arts Group was set up to encourage participation and increase the profile of arts related activities in Lisburn's Historic Quarter. The Group is currently developing a new public art work to commemorate the tercentenary of the Great Fire of Lisburn.
EVENT
Graham Catney, Chairman of the Grout said: "We are very excited about the forthcoming event and are grateful to Neil for his support. We endeavour to make Lisburn City rich in arts and culture."
Anyone interested in adding the special limited edition print to their collection of attending the evening on the September 12 in Castle Gallery, Lisburn should contact Colleen Mulholland on 9266 1160 or email colleen@lisburn-enterprise.co.uk.